Help! Need advice ASAP re sill pans and window sealant
My builder is in the process of sealing up various holes to the exterior prior to installing insulation in the walls. His guys are using that spray stuff that foams up and then hardens. He calls it "polyseal."
I think the guys are trying to do a good job with the sealant b/c I've been so picky about previous steps in the build. However, yesterday I noticed that they have put polyseal into the spaces between the bottoms of my Jeld-wen aluminum-clad wood windows and the sill pans that are beneath the windows themselves.
I thought this space was supposed to be left open so that if any water penetrates the window, it will drains down to the sloped sill pan and then out to the exterior. They sprayed the polyseal from the inside of the house and the only way you can see it is to get down to the sill pan level and look over the top of the turned up back dam of the sill pan and under the window. Basically, they appear to have dammed up the space that was supposed to allow water to get out of the house.
You should know that when my builder started installing my windows, I noticed that he was not using sill pans (nor otherwise appropriately flashing the windows). He insisted that no one in my area used sill pans and that there was more than one way to flash a window. Unfortunately what he was doing didn't meet the standards of any method of flashing that I could find info on anywhere.... Just one of many fights we have had along the way.
I pointed out that the window manufacturer's installation instructions specifically said to use sill pans and that my contract required him to follow the manufacturer's installation instructions for all manufactured parts unless I agreed in writing to an alternate installation procedure. (When I insisted on the clause, I was just trying to make sure that if manufacturer's warranties were voided by incorrect installation, my builder would be in breach of contract and therefore liable for any damages that the manufacturer wouldn't cover.) But, on the basis of that, my builder gave in and used sill pans and flashed the windows according to instructions from Tyvek and Jeld-wen.
At that point I was happy with the window installation and fairly confident I wouldn't have mold issues sometime down the line. But now it wouldn't surprise me if the workers he has doing the polysealing don't have a clue how to polyseal where there is a sill pan and are ruining an otherwise good installation.
Problem is, I can't seem to find anything that talks about exactly HOW to seal around windows. So maybe this is not a problem but I want to find out before they put sheetrock on and cover up the situation.
Not sure whether the explanation above makes sense and I didn't have my camera with me yesterday so I've tried to make a sketch showing what was done. Can anyone here tell me if this really the problem that I THINK it is and, if so, what can be done about it.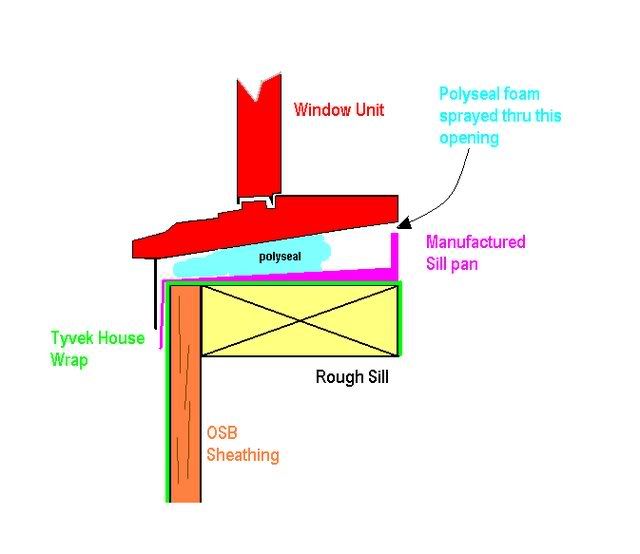 I'm thinking that they probably should have put only just enough sealant at the interior edge of the sill pan to stop air infiltration. Something like this...
Any advice would be much appreciated.