Building New Home Help me Decide on Siding
aktillery9
August 24, 2014
This is a picture of our elevation. Ignore all the siding you see. Also, we have an 8ft X 42inch mahogany door. It is very simple. We are planning on vinyl windows with a dark bronze exterior finish. We also plan on a metal roof. Probably a medium to darker brown finish as you see in the inspiration photo.
My problem is what to choose for the siding of the house. At first we wanted all stone. As you will see in my inspiration photo. Then I began to think I want to also add some creamy colored stucco or white. I am not sure where to use the stucco and where to use the stone.
It is difficult to tell in the photo the three dimensional aspect of the elevation. The part that is all stone in the photo is the part of the house that sits out the farthest. The rest is recessed, some parts more than others. The far left of the house showing the stone almost up to the roofline is the farthest recessed (not including the farthest to the right, the garage which sits the farthest back.
Ok, hope I have not confused everyone too much.
So, what would you do? Where would you put the white stone vs the white stucco? Would use keep the stucco white or paint it a color? Would you use stucco at all or the stone only and vice versa. I am wide open to any and all ideas. I can't change the elevation plan now as we are already building.
BTW, we live in the Texas hill country (if that helps)
Here is my inspiration photo

Here is the elevation photo

Here is our lot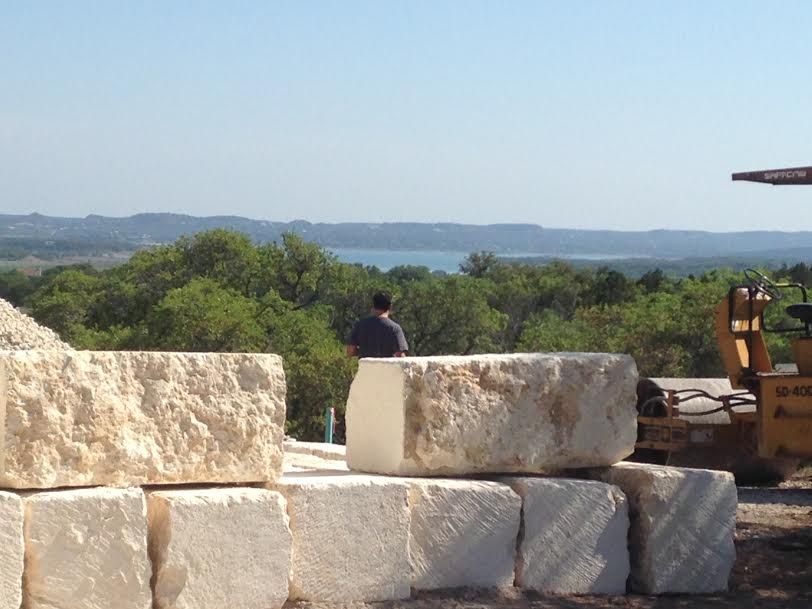 Sorry this image is no longer available.