Good Sources for Mid-Century style Entry Doors
I know this is a window forum, but there's no door forum so I'll post this here since this comes closest....
I need a replacement door for a 1950s house built in what was then considered a modern/contemporary style home - stone and brick front, large metal horizontal windows (some which wrap around the sides of the house), low-pitch roof. Most of the big door manufacturers are pushing doors with elaborate, ornate decorative glass, usually in an oval, large rectangle, or arch shape, in deeply sculpted doors. Sometimes several of the above in the same door. These look perfect on big Colonial-style McMansions, but is all wrong for my house. But with a few exceptions, I'm having trouble locating vendors for good replacement doors for a mid-century upscale ranch house. The current door looks like the top one here - which I like, or would if it were stained wood or painted a more muted color - but it's custom made by a small vendor and rather pricey. What big, lower-cost door companies make these?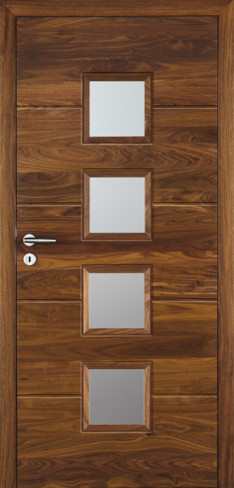 The only big manufacturer I've found so far making this general style is ProVia, whose line of clear glass doors includes these:
I'd like both of these better if the glass came further down the door. They have one with a diamond-shaped window, but again it needs three stacked vertically to look right and function well. Something like the door on the bottom would work well, with an asymetrical narrow but tall window offset toward the opening side.
So what else is out there? Anyone know where to look? Thanks.