More layout help - what if I could do anything?
We've been trying to find the perfect floorplan for our existing space (see the thread here), and I just wondered what great ideas you would all have if I was willing to remove a wall, get rid of a bathroom & closet, and expand the size of our kitchen. I'm having trouble finding an awesome layout that would make the (much more major) renovation/addition worth it. It seems like it's just too small for (for example) an island, and I kept making layouts that look like a labyrinth for the necessary paths through. Could you help?
Here's the rules:
Door at top of plan stays where it is. That's the main entrance to the house, from a mudroom.

Two doors at bottom right of plan stay where they are. (Note an 18" cabinet fits behind the bottom door, along the right wall.) Bottom door goes to a study and the one next to it goes to the basement.

All windows stay (windowsill height at right is 36", at top is 57").

Radiator can move but has to be in the room somewhere. It can go under a countertop.

Wall at left needs to be a wall (no "open floor plan") but the doorway can be any size and anywhere in that wall.

The dining room is to the left of the kitchen, but the plan should work still if the dining room is moved to "under" the kitchen (through the door at the bottom)

We have existing appliances: 36" counter-depth side-by-side fridge and 30" freestanding range (NXR), and a standard 24" dishwasher. I need a spot for a coffeemaker & grinder, and a KA stand mixer (can be in a lower cabinet), a microwave (no OTR!), and a countertop toaster oven.
That's all, I think. Islands or worktables or peninsulas are OK. The light lines on the plan are 1 foot increments.
Here's our whole house as it is now, and a blank plan is below.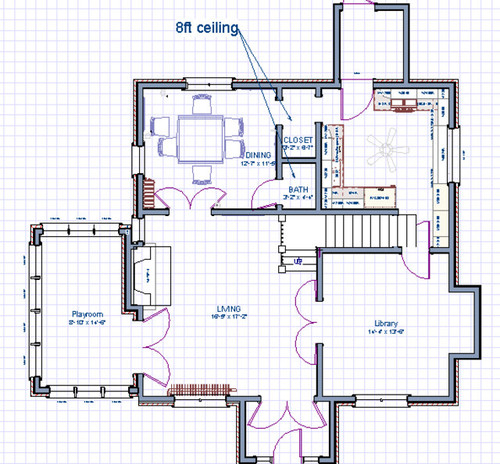 Thanks in advance for any ideas, even sketchy or half-baked ones.
Eric