polymer clay tiles for mosaics
seems like eons ago a GW regular Haziemoon showed her AMAZING celtic stamped PC tiles mmmmmmmmmmmmm
my mouth watered and I asked her every bit of detail on how she did that mmmmm they were beautiful! what she said was go buy Laurie Mika's book on Mixed Media Mosaics! (I wasn't in the position to do that at that time but someone here graciously sent it along to me) another wonderful person shared some things that she no longer used and boyoh did it open my world right up!
now I truely love adding stamped tiles to things I make because I can include my thoughts (inane as they maybe! LOL)
There are way better examples of PC tiles by alot of talented artists, but I'll share with ya all how I do it and you'll see how easy it is to get that look.
polymer clay is that premo, sculpy, fimo.. brands that bake in the oven. each has differing temps and times so be sure and look at the package.
I usually just roll out a bigger piece, stamp then trim but because had to fit as a replacement I cut it to size before stamping.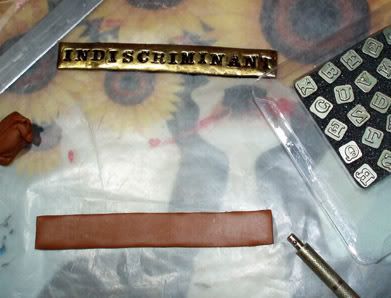 Now its stamped with the correctly spelled word and you can see there is a bottle of black acrylic paint and a baggy of gold mica dust.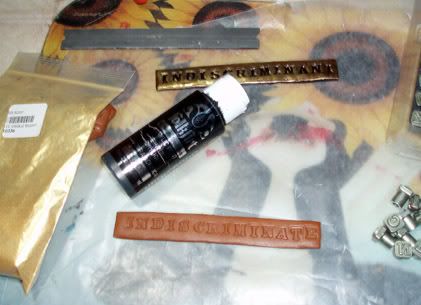 now I painted the clay and then wipe it off so that it remains in the grooves of the stamped letters.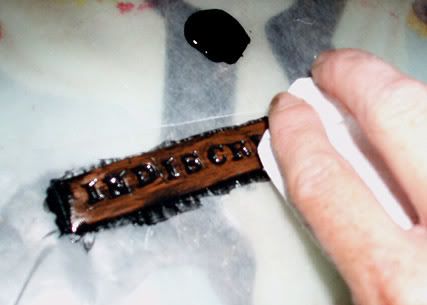 then I dip my finger into the mica and rubb it on the tile
now bake in a covered dedicated pan (only for clay) seal it with 2 coats of Future floor polish. Mask with tape before grouting