Newbie with questions
Hi all, I just found this forum through the Garden Junk forum. I've enjoyed reading your posts and see there are some experts here who might help. I've read some on the posts on mosaics with plates, but still have some questions about my project.
I would like to mosaic these plates onto a concrete stepping stone:
Here's the back: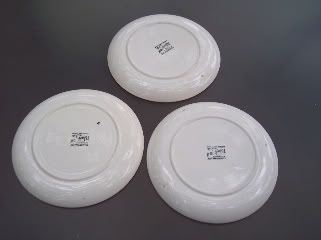 Since these are the only three of these I have, I want to approach this carefully. The question is that these are thicker pottery than the usual instructions and I want to be able to control the breaking so that the ivy design still looks good and the round edge still is usable. Are there any tips to help with this? What will happen to the curved up edge when I try to break them? What should I use on the plates? I read some posts about nippers, but they looked like they might not work for this type plate. Anyone use a tile saw on a plate?
Will this even work at all?
I've done some tile projects and even one plate mosaic on a clay pot that turned out to be too small but a good experience anyway. I would love to hear some ideas from the group here.
TIA