Gramercy Momeni Sage Area Rug - Have you seen in person?
Well, I still haven't purchased a rug for the family room (despite photoshopping so many last year). I came back and reviewed my old decisions and think I have made up my mind.
I know I 'should' order the smallest size of this rug to make sure the color works but maybe I don't have to? (I just want to pull the trigger!!)
Have you seen this rug in person? Do the colors I'm showing look true? Sueb20 - you have this, no? Any feedback as to how it's worn?
Also - I'm looking at the 8x11 size; available at RugStudio for $999 with 20% off, so $800. Free shipping. Can anyone suggest a source with a better price?
Here was my original inspiration for this room / colors: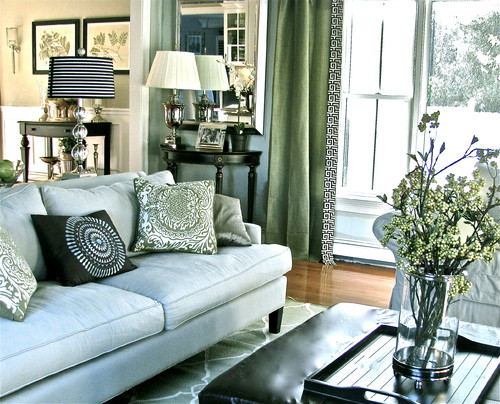 Contemporary Living Room by Marshfield Interior Designers & Decorators Stacy Curran