Finished Kitchen - Soapstone and Slab Cherry
I couldn't have done this kitchen without GardenWeb. I've been planning this for almost 2 years and reading everyone's questions helped me figure out what my answers would be. It helped keep the stress down considerably. Where do I want the faucet? Off to the side. Where do we want the pulls? In the middle and a little up. Undercabinet lighting in Xenon? No, LED please. What type of cabinets? Slab full overlay, and yes, I do want the grain going horizontally. That's really not as common here as it is on GW.
I felt so prepared, knew what questions to ask, what to look out for, and it was all because of you guys. Thank you!
We also vetted our GC very thoroughly. I went to two homes he had done projects in. One a full 1st floor remodel and the other a 2 guest bath and guest bedroom remodel. We also saw a kitchen he was just finishing up. We spoke to the home owners about their experience and it made us feel very comfortable going with them. If anyone in the Austin area wants a rec, let me know. As one of the homeowners said…they aren't the cheapest in town, but you get what you pay for.
Here are the products:
Custom framed cabinets, natural cherry slab with horizontal grain and full overlay (Total grain matching would have been an extra $3500 and I just couldn't do it since I'd said no to the Wolf range DH wanted. However, at install I saw that all the upper doors ARE grain matched which is so lovely. I don't mind that the lower drawers are not since there's no place in the kitchen you get a really good look at them)
Fridge: Samsung 4 drawer 36" RF4287HARS
Range: KitchenAid Freestanding Double Oven- gas KGRS505XSS
Hood: KitchenAid 30" Hood KXW4330YSS
Dishwasher: KitchenAid Dishwasher KUDE70FXSS (DH wanted a Miele but it didn't fit our dishes well. So glad we tried it out in the showroom first. He really wanted the silverware tray and the KitchenAid had that)
Countertop: Anasazi Soapstone from Austin Dorado. We also used this as the backsplash. They said we needed 3 slabs for the countertops, so I basically said, ok, what else can I get out of them since I have to buy the entire slabs. We like the look and it made the backsplash choice angst-free.
Backsplash behind the range: Sheet of stainless steel with a random scratch pattern on it
Sink: Blanco Silgranit II Super Single in Anthracite
Faucet: Kohler Karbon-black with stainless steel (thought this was ugly until I played with it in a showroom. Love the functionality)
Pulls: Berenson Aspire
Floors: Tile: Earthwerks Boardwalk Plank - color Venice Beach
Lessons learned:
Document everything and double check as things are delivered. I discovered the tile guy had picked up the wrong grout and they were able to get a new bag before any grouting had been done. So glad I double checked the color.
If something looks off to you, measure! The electrician had installed two plugs too low on the wall and it would have hit a 4 inch backsplash. They were able to move them up before the drywall was put up.
Don't expect people to think like you. I told the GC I wanted to have a meeting with the fabricator for templating the countertops. So glad I did. There was a large black blotch on the slabs and they said they'd try to get that in the sink cutout. I told him my priority was a good seam. If that meant the black blotch was to the side of the sink that was ok. It's a natural stone and weird things happen. I wanted the one seam we needed to be terrific. Also, they wanted to get the countertop and backsplash all from the same area so it looked like one section flowing to the next. However, the peninsula is a large section and the area they wanted to use was not as pretty as an area right next to it. I pointed out that I'd rather have the other section and was ok with the backsplash being different. In that one area I was going to have the paper towel holder and large canisters anyways so you wouldn't see much of the backsplash. A pretty peninsula was more important.
Again, thanks to everyone for taking the time to ask questions, post pictures, and share your experience.
Here are the Before pictures.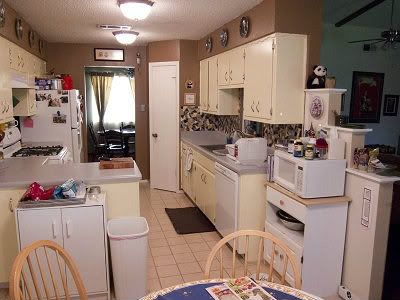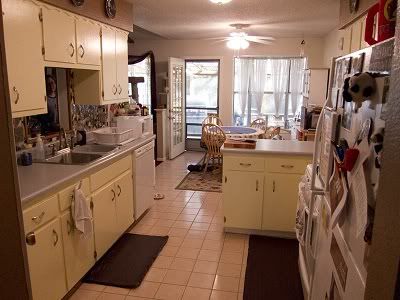 And here's the after! It took 8 weeks to do and was fully permitted. The bright circle in the middle is a SolaTube and it brings in so much light it's crazy. We also replaced the door and bay window with a sliding door which made a huge difference.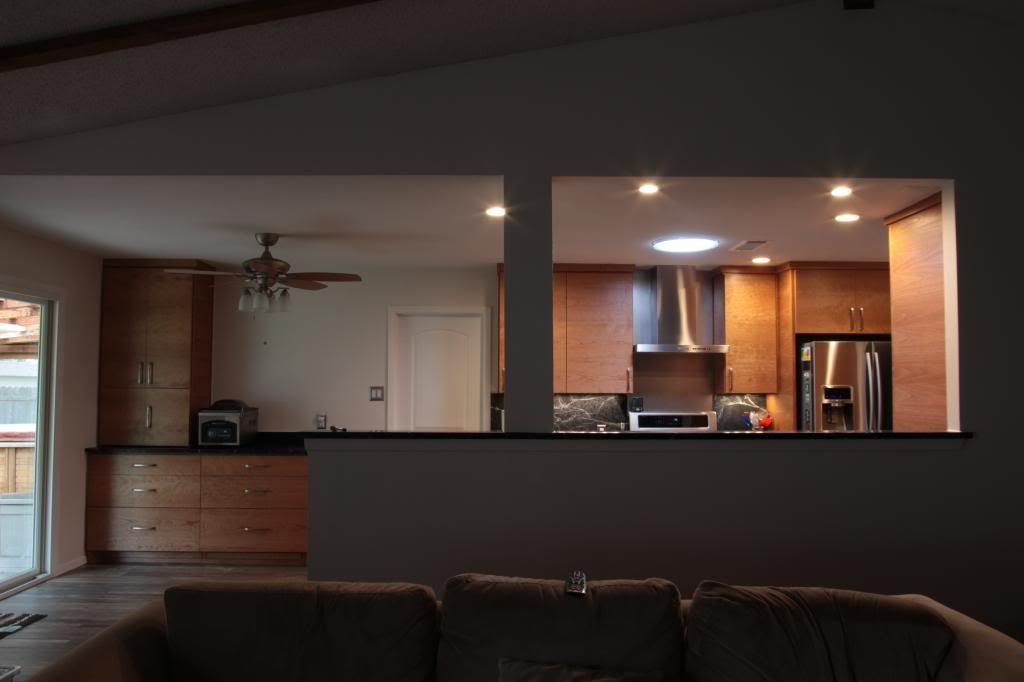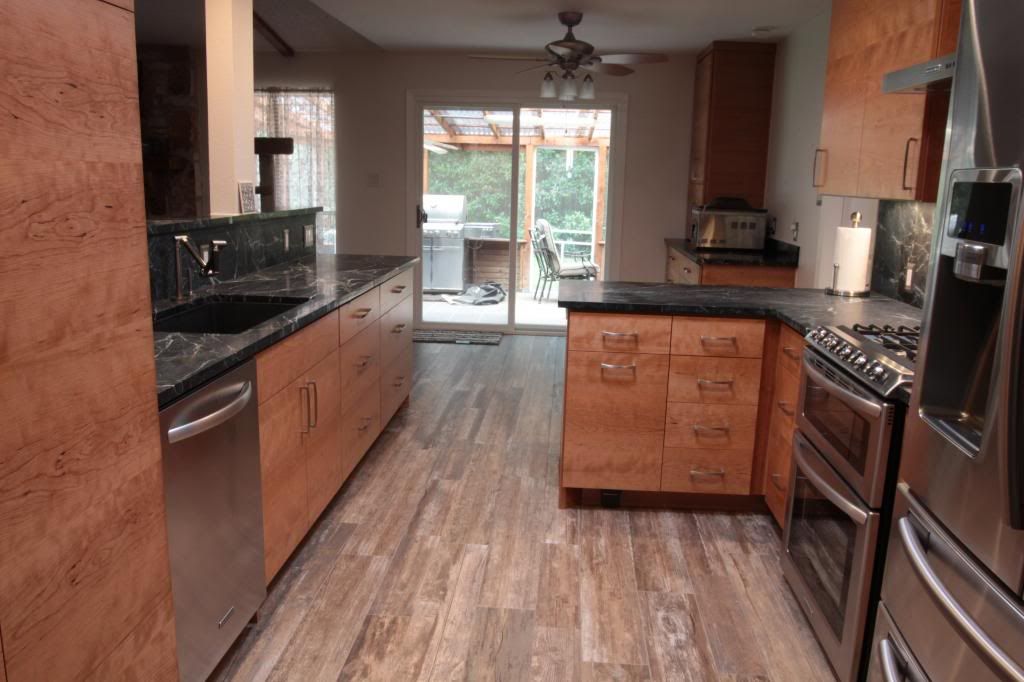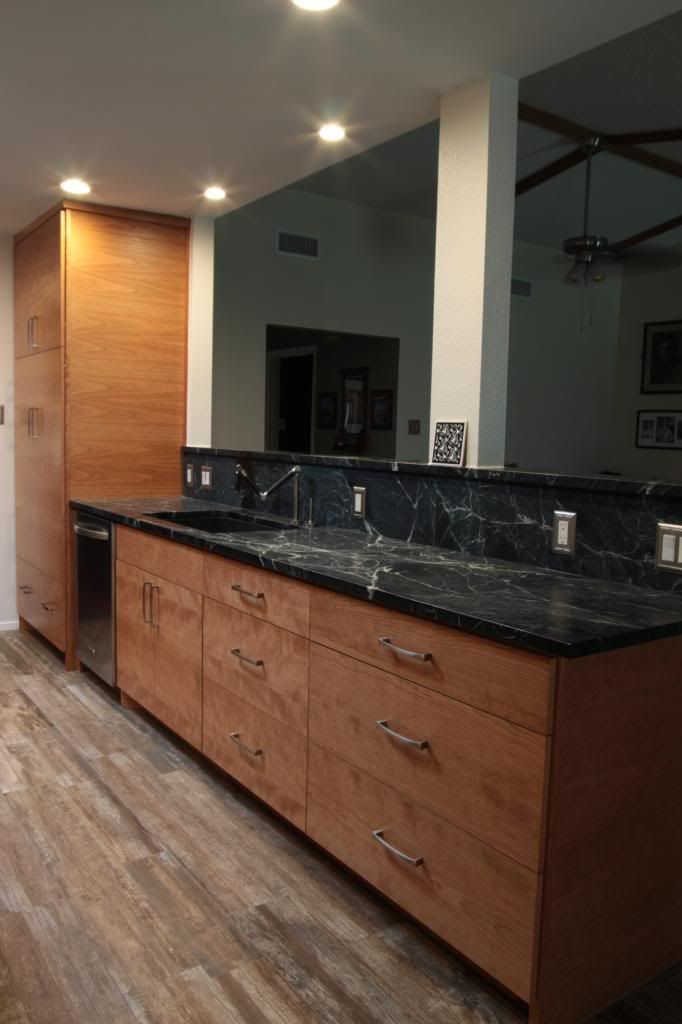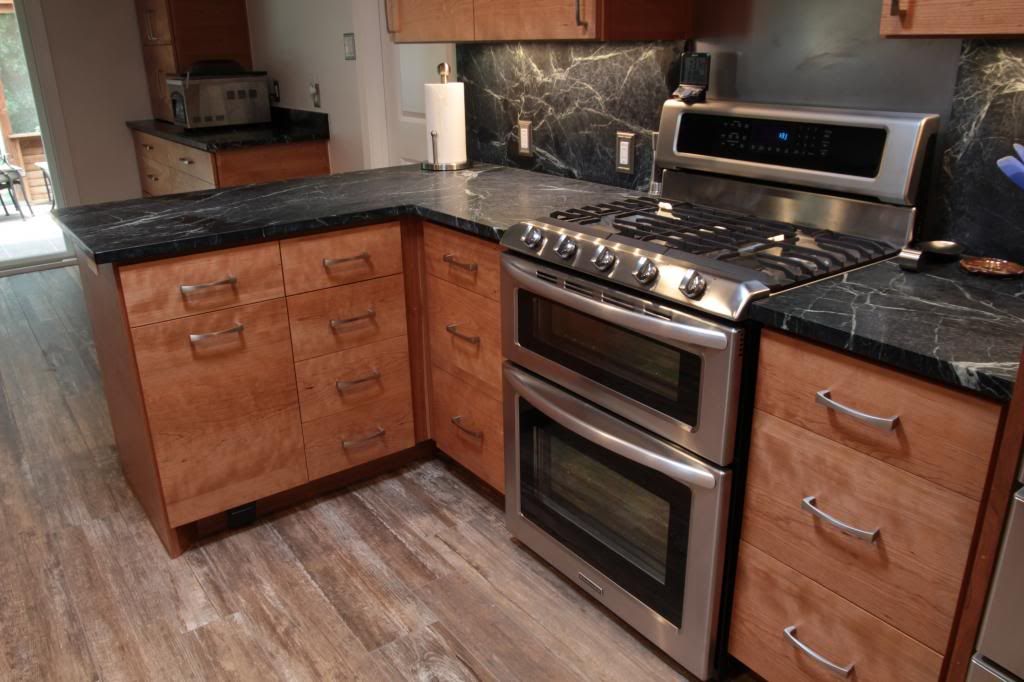 The link for the full library shows a lot of the inside organizational things we did and close ups on the soapstone.
Here is a link that might be useful: Full set of pictures