Want to help me decorate my new room?
Well, not new, but newly remodeled.
This is the formal living room but I am using it right now as the formal (and only) dining room. The table is always fully extended because dh can only get his legs under the ends. When we bought the table, it was extended and we didn't notice that the middle part had a skirt that was too low for dh's legs. We've had the table for years but have never used it as our main table before.
I mentioned selling it and getting a table that was taller but dh doesn't want to do that. After a few months of only being able to sit at the end, he might change his mind. lol I think the room would look nice with a couple of wing chairs in front of the fireplace and a couple of drop leaf tables tucked next to the walls so we could have one for small groups and two for large groups. Oh well.
This is the south wall:
Previously, I had an old secretary on the left and a barrister bookcase on the right. But the secretary needed some work so it is in the garage & we moved this little table there & I really like it there. But now I'm not sure how to balance it on the right. I can put a picture over the little table, remove a stack or two of bookcases and put a picture over that.
This is the west wall:
This is a dresser I repurposed to be a buffet table.
I have a mirror: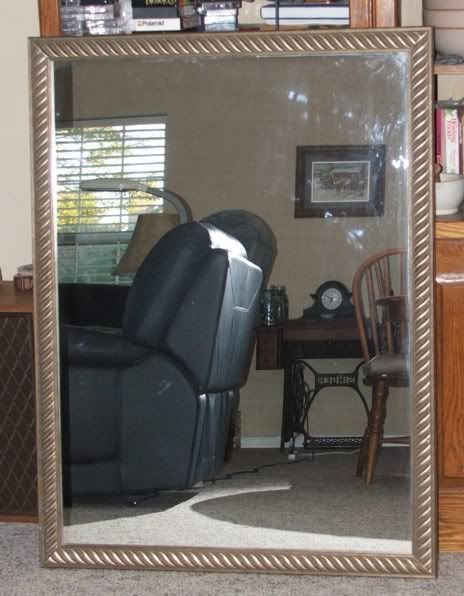 that I can put over it, or a picture or two (which I would probably have to buy because I don't think I have anything that would work). I had this mirror on the opposite wall only lengthwise and I didn't like it that way - I don't like seeing myself, much less when I am eating. But upright might not be so bad, besides, I don't sit on the side that would face the mirror, lol.
The other wall has nothing on it, so I didn't bother to take a picture. I can't put any furniture there because the walkway space is needed. It's a bit cramped on the side with the buffet. I'm thinking of putting a curtain rod there & hanging seasonal quilts on it to visually take up space and add some color to the room, as well as helping with the slight echo it has now.
Any great ideas without adding too much clutter? I absolutely love that this room cleans so fast & easy without all the junk I had in here before.
Oh yes, and there is a mantle but dh took it down to restain to match the floor.