Which layout works better?
Please help! :) I posted my HD plan yesterday and didn't get much feedback. Hoping having 2 plans to compare might generate more interest.
I have a HD generated layout and a 'nice showroom' generated layout. I like the traffic flow of the HD one, but the look of the showroom one. I have to move plumbing gas in both, so I'm stuck either way.
HD:
Pro: seems to have better flow
Biggest Con: Fridge against wall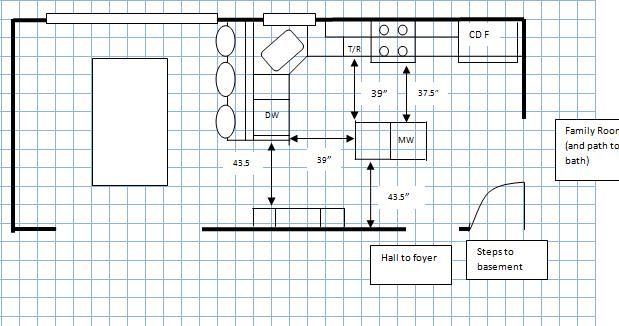 Showroom plan:
Pro: I like the snack center created on the bottom wall (keeps the scavengers out of my way cooking!)
Biggest Con: It looks a little pinched around the left side of the island - coming in from the front hall you have to 'pick a side' to go to or you run smack into the island...

Here's a 'mock up' I did f the island using a table. It would be a little longer to the left, but the placement is correct. And obviously an island would be prettier but still...also, the nice window behind it will be gone so I'm not sure your eye will get drawn to the stove wall like it does to the window.