New house, painting advice
We recently bought a house in Florida and had painters start immediately to remove popcorn ceilings and old wall paper. We haven't spent any time in the house as its a mess from the painters.
Sounds really crazy, but I don't have any 'feel' for this house as I've never spent a day in it. It is empty, floors covered in drop-cloths, light fixtures covered with plastic, etc. Really weird to pick paint colors when I don't 'know the house' or know what the rooms will look like without all the wall paper removed.
We want the work done as quickly as possible so we can start moving in. We are having tile put down in bedrooms after the painting.
How the heck can someone figure out paint colors with our situation?? I'm thinking, neutral colors. My furnishings (in storage) are mostly browns and tans. I'll post a photo of my couch from our past home.
The painter only uses Sherwin Williams paint. I could push the issue but it doesn't seem to matter as I don't have any idea what colors to choose anyway. We have always used BM in the past so I am familiar with those colors. I have never used SW which adds to our problem.
I've been staring at SW paint charts for two days. Painter wants the colors tomorrow. Any suggestion for a basic color to get this house painted?
Sorry this image is no longer available.
This photo is from our old house. Ignore the pillows as I would change them from time to time to bring in color. The walls in the photo are BM Smokey Taupe. I was never thrilled with the way the couch worked with the paint color. My old house was very bright with tons of light. New house is dim, poor lighting. We are considering skylights to bring in much needed light.
Floors in new house living/dining room are dark cherry wood. We are tiling the rest of the house with light tile.
Here's a few shots of the living room before we bought the house. This is not our furniture nor wall-paper! You have no idea the wall paper we're dealing with! The space is small and I'm not even sure what furniture will fit. The fireplace was left behind (selling it on CL) and is not real.
In this shot, you can see tile in the entry meeting the wood in the living room space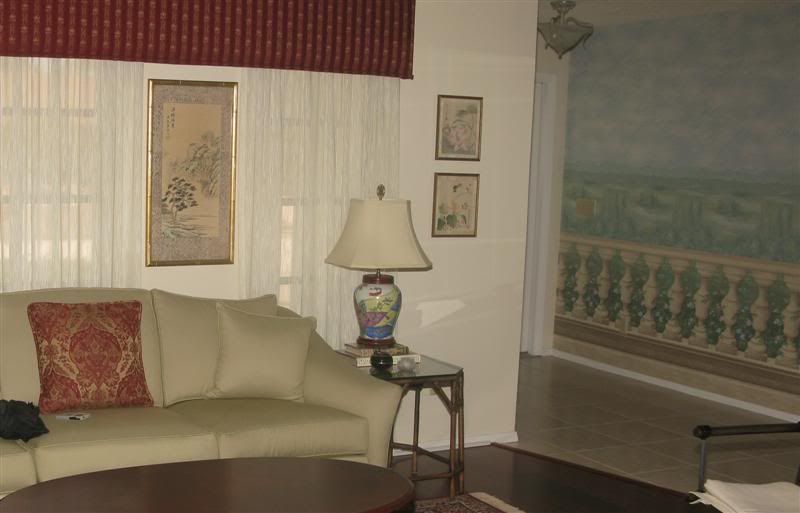 Thanks for any help,
Jane