Will I regret a black and white kitchen down the line?
jennifer11203
May 16, 2013
Ok so... we are redoing our kitchen and were debating between white upper cabinets with black lower cabinets or all maple espresso cabinets. The problem with the maple espresso cabinets is that I really wanted dark tile wood floors and a rustic long wood table and I feel that the espresso cabinets would not look good and would be too dark with espresso cabinets. So in that case I would have to settle for light floors which I did not want.
I really love both color cabinets but IâÂÂm afraid I will regret the black and white cabinets later on. Did anyone have this problem? I feel like no matter what I choose there is always the chance I would regret it.
The picture is a mockup of my kitchen with the black and white cabinets. Also the backsplash will not be gray tiles I just havenâÂÂt decided on those yet.
Thanks.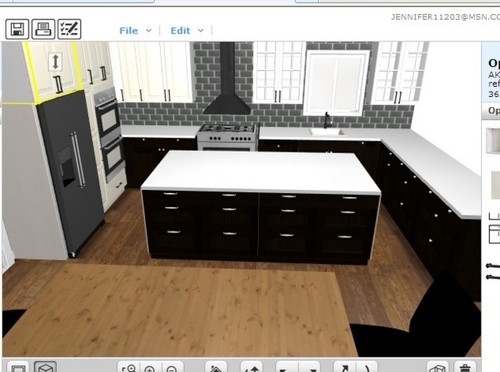 This post was edited by jennifer11203 on Thu, May 16, 13 at 15:43