Built-in beds with storage?
mama goose_gw zn6OH
October 28, 2012
I'm slowly trying to finish an upstairs guest room, which will have a full/queen bed, two built-in bunks, a baby crib, and a fainting couch which converts to a twin bed (family heirloom--needs to stay). When finished, the room could accommodate a young family, a group of young adults, or a grandkid's sleepover guests. I recently recessed two small chests of drawers in wall space, and I have plans to add another bank of small drawers, left over from my old kitchen. One of the chests rolls out on casters, to reveal a small under-eaves storage area. There will be two other under-eaves storage areas, probably for things my kids want to store. (Easier for them to crawl around in, lol--I'll store my stuff in full-height closets.) This is the room that has finished bookcases and a folding table on one wall. The full size bed will be in this area: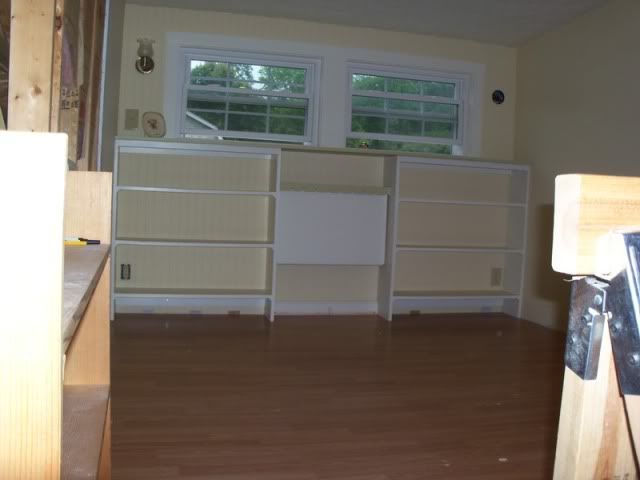 At this time I have no plans to sell the house, but I'd like to cover all my bases. The house has a master bedroom and bathroom downstairs, but all the other bedrooms are upstairs. In addition to the unfinished guest room, there are three small bedrooms (one with built-in twin bunks), a wide hallway/study area, and a half bath. I will not be adding onto the half bath, nor adding another bath upstairs.
If someone with very young children wanted to buy the house, the guest room could be used as a temporary master bedroom, until the parents felt comfortable moving downstairs to the master BR. Even though there will be plenty of built-in drawer space, the area reserved for the fainting couch/twin bed could be used for a dresser, instead. (Without a mirror--the knee wall is 5'.) I had planned to build the low bunks on one wall, similar to this pic from houzz, but with open storage underneath:
Traditional Kids design by New York Interior Designer Pierce Allen
But then I found a neat idea on a blog, for a fold-up bed that looks like a dresser:
The advantage of the fold-up beds would be more floor space when the beds aren't in use. They would be only about 6" deep when folded against the wall (DIY 4" foam mattresses), so there would be room in front of them for real dressers. They could be easily removed if new owners didn't need the extra beds. OTOH, I had planned to have space under the bunks to store suitcases, shoes, etc. I also had plans to build the bunks in such a way that they could easily be converted to closets, with poles for hanging clothes. Keep in mind that my house is old--there are no walk-in closets, but the downstairs master BR has one wall of full-height closets, added in the early 1980s, and I have 14' of full height closets with shelves, in the play room. Anyone considering buying this house would have to embrace the quirkiness.
So, my question is: If you were buying my house and had a young family, would you consider using the guest room as a temporary master BR? And if you did, which style of built-in bed would your prefer--bunks with potential closet space/less floor space, or folding beds with more floor space, and which could be easily removed?
Here is a pic of the rough space--the built-in bunks (or faux dressers) would be along the 4' knee wall with the blue tarp. The wall with the finished bookcases is opposite the tarp, out of camera range. Thank you very much!