Reveal of my kitchen remodel
First of all THANK YOU! I never could have done this without the help of all the generous GWers.
There are a few things left to do: window coverings, put my everyday china in the glass cabinets, choose counter stools. Next we will update the adjacent family room with stone surround on the fireplace, redo the TV cabinet and choose new furniture. But if I wait until the whole area is done I'll never do a reveal. Had to snap pics before we messed up the kitchen!
Sorry I was a goofball and did not take any "before" pictures. It was a white kitchen, but almost everything was broken, a big light box on ceiling, strange shaped island, no venting, and a skinny peninsula that stuck out into the greatroom serving no purpose but to block people getting to the back door. So here is my new kitchen.
Details...
Cabinets: Custom by a local cabinet maker: Paint grade maple, frameless full overlay, full extension soft-close drawers and soft close cabinets.
Paint: SW Pearly White on perimeter; SW Black Magic on island; SW Monorail Silver on walls
Countertops: Leathered antique brown granite on perimeter, window sills, and cooktop recess; polished white macaubus quartzite on island
Basksplash: 3 x 6 honed marble tiles; a mix of marble, glass and split stone strips for recess
Lighting: Pottery barn pendants, Kitchler under-cabinet and in-cabinet LED lights
Hardware: Jeffrey Alexander Bremen pull and Durham knobs
Floors: Kept existing oak floors, spliced in new wood where needed and refinished in a stained called coffee brown
Hood: Vent-a-hood BHDSLD 34 3/8"
Cooktop: Bosch 800 36" Induction Cooktop
Microwave: Cheapo small microwave in cabinet with pocket doors
Ovens: Electrolux 30" Double Wall Ovens and Warming Drawer
Ice Maker: Kitchen Aid 15" Built-in Ice maker with internal pump
Refridgerator: Old Subway 601 R that was here when we moved in and still going strong, put new panel on it.
Dishwasher: Kitchen Aid KUDE70FXSS that we already had
Sink: Kohler Riverby 33" single bowl enameled cast iron white
Faucet: Delta Trinsic Touch pull-down in shiny chrome, Delta soap pump
Filtration faucet: Mountain plumbing filter faucet
Trash: Rev-a-Shelf double trash pull out in island
View of kitchen as you come in through the greatroom:
Going in a circle...
Standing near sink looking into greatroom:
Oven wall and desk area, I need a new chair!
Oven wall:
Fridge and Cooktop side: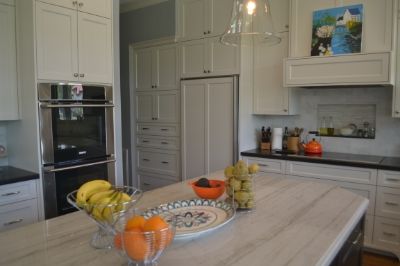 Cooktop with recess: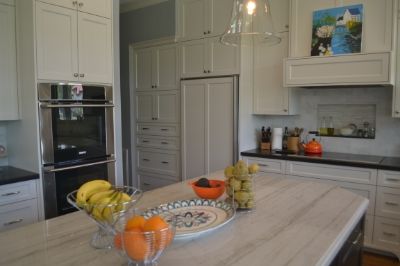 Sink area:
The end of the circle:
Kids' stack: they actually make their own snacks and lunches now:
Thanks again! Now on to the next project...