My window/painting for the bathroom!
sweets98
December 21, 2007
I have had this plan to use a window and do some sort of painting, stitchery or SOMETHING in the window to put in my bathroom for quite some time. I found the windows out with the trash just down the road from my house in the spring. Then I had to come up with what I wanted to do and finally settled on painting something on MDF and attaching to the back of the window. Then I had to decide what to paint.
I got to business back in about October. The painting was finished within a few days butit's taken this long to get DH to cut the MDF down so it would fit in the window. I started to do it myself two weeks ago and my jig saw just died on me halfway in and I'm not really familar with DH's saws so I was stuck waiting again. He finally cut it down on Sunday! YIPEE! Then I attached the MDF to the window and realized I needed DH's help again because the window was pretty heavy and I wasn't sure if the my regular old way of hanging things would work too well with our paneling (we live in a mobile home). So the picture sat yet again until DH FINALLY got around to hanging it last night! YEAH!
So it's a little higher than I wanted it to be but I'm so happy to finally see it up there!
I took pictures as I went sort of...
When I first painted the basic pieces...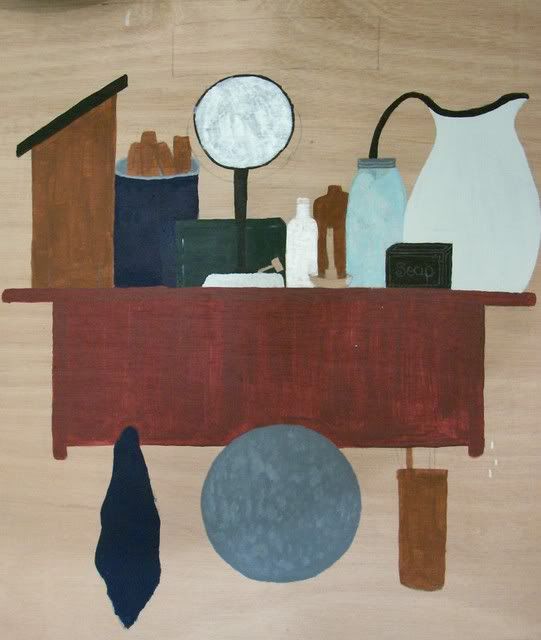 Later with the details finished and background painted...
Painting in window....after rubbing stain in background for shading and some distressing of the window frame...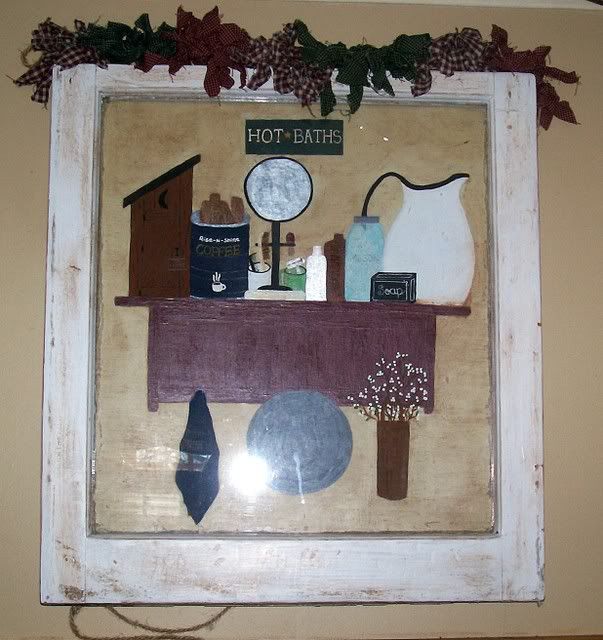 Bigger picture....