would this oven height work?
karenlk10
September 9, 2013
Hi All!
I'm thinking this might be a better place to post my hopes/plans for a better kitchen space than the "big kitchen" board. I'm looking to make my tiny kitchen more efficient, not bigger.
I'm working on a plan to update because I've decided the 1950s home I've already been in for 24+ years will also be my retirement home. I just wont ever go upstairs now that kids are gone to college! :) Downstairs has two bedrooms, a small bath, a formal LR/DR combo, and a den that adjoins a 10x10 kitchen with a 10x7 breakfast nook. So the downstairs area I'll mostly live in is probably about 1200-1500 sf or less.MORE than enough room and in a great location... so I would rather spruce up the kitchen than pay 2x-3x as much to move elsewhere.
Due to odd spaces in the home design, I dont have lots of tall wall space in the kitchen. And I want to keep the breakfast area. Right now the oven and fridge are on one wall and the tiny fridge spills into the breakfast area.
Sorry this image is no longer available.
I already have a wonderful Bosch induction oven installed in a peninsula and the obvious option is to install a new oven under the cooktop here

But I'm worried about the bending as I get older. I've always had a wall oven. Seems I'd have to go down pretty low and even the smooth extendable racks may not make that a comfortable task.
Then I saw this photo on an ADA website....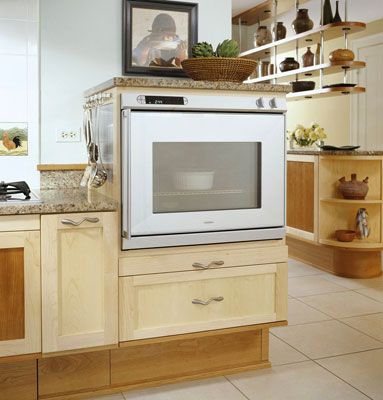 I could make that work at the end of the peninsula, but worry how it will look/feel since the kitchen is so open to the den.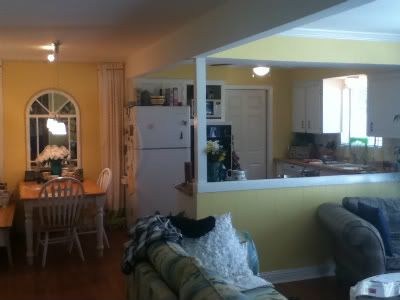 The end of the peninsula also faces the opening to the FD/FL.
Sorry this image is no longer available.
The common living areas are like a big square circle - you can chase the dog in a big circle through all 4 rooms. He likes it. :)
So - Any thoughts about the raised oven look? I guess I should point out that I dont bake that much. More stovetop and crockpot myself.
Oh. BTW - yes, I do want to keep a breakfast nook. I plan to add floor to ceiling cabinets where those white drapes are hanging in the photo above. I want them to be flush with the new counterdepth fridge that will be partly recessed into the garage space behind that wall. That will leave table space less cramped and allow more light from the little window to flow in.
What do you think about the raised oven?