My finished white kitchen ($8k budget)
My kitchen is done, with tons of thanks to everyone at this site! I had never been here before my kitchen remodel, and google kept leading me here with every question I could throw at it. Then I found lots of wonderful help, advice, and hand holding as I went through this process.
The kitchen is 10' x 18', and our condo was built in about 1987.
Before: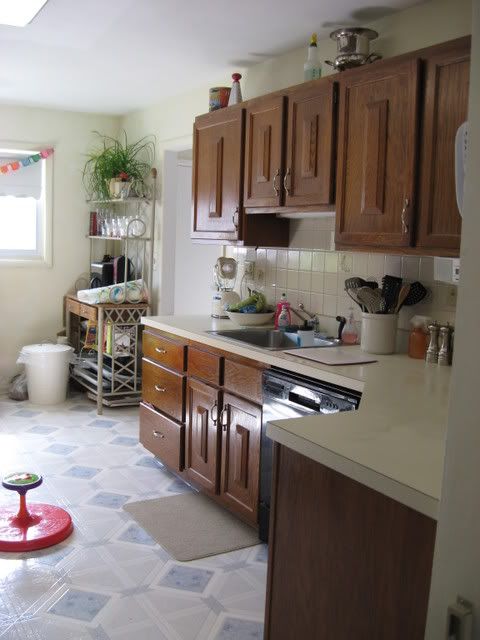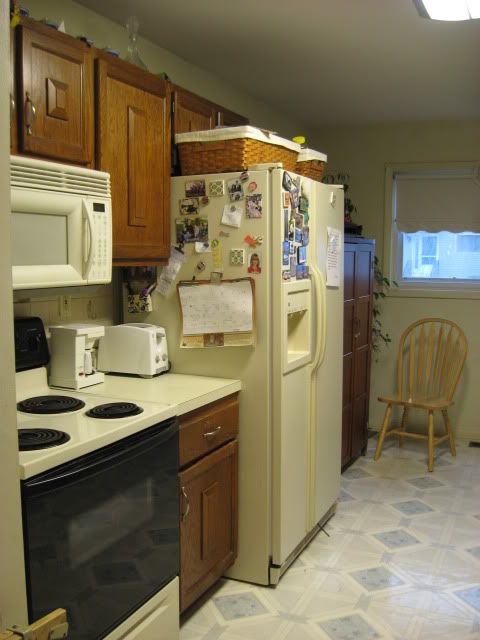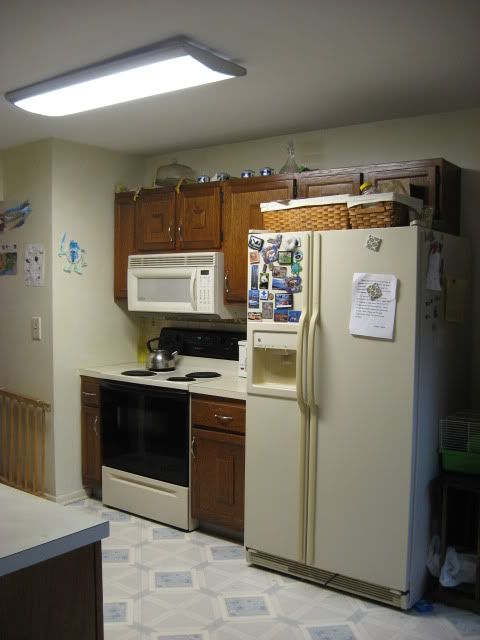 Our only previous seating in the kitchen was a kid's table.
Cabinet Paint - SW Alabaster
Trim Paint - SW extra white
Wall Paint - SW Sea Salt (looked green/gray after the first coat, before thankfully ending up in a soft aqua)
Counters - Valley White Granite (also called River White, and maybe White Spring)
Floor - Bellawood 3/4" Red Oak
Vintage Cherry Hutch - craigslist
Island - craigslist
Backsplash - white cheapy Lowes subway tiles
Dishwasher - kenmore (already had)
Range - Electrolux EW30DF65GS duel fuel from craigslist
Refrigerator - Bosch Linea Series B22CS50SN from Sears Outlet
Hood - Zephyr Breeze II Series AK1200
Microwave - GE Profile Spacemaker II PEM31
undercabinet lighting - xenon task light strips from Pegasus
I was all set to go with jet mist or another dark/black granite, and I just fell in love with the valley white slab when I went to the stone yards. I'm so happy with my choice, and I love the sparkly depth in it.
I was a little afraid it would be too much white (polished at that) with the counters, backsplash, and cabinets, but I think that they all work well together.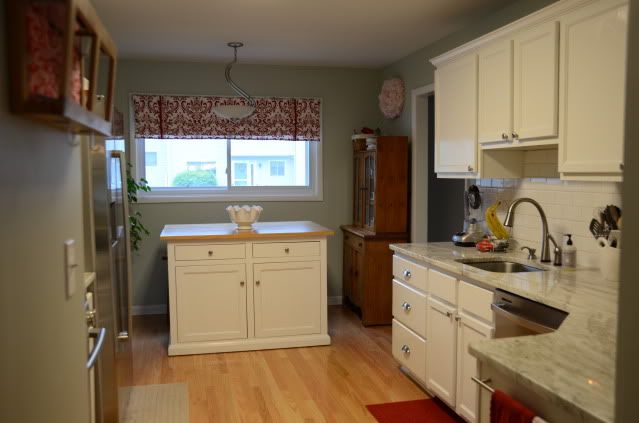 love my vintage cherry hutch - so much better than my old baker's rack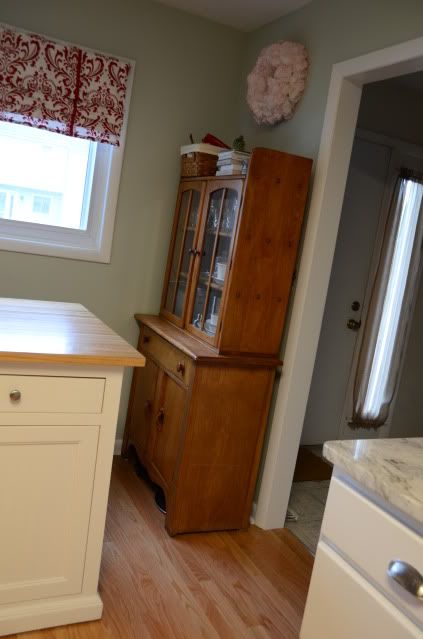 I was going to buy an unfinished bookcase and paint it to match the cabinetry, but I went cheap & easy, using an IKEA bookcase instead. I attempted to add some molding around the microwave to make it look sort of built in.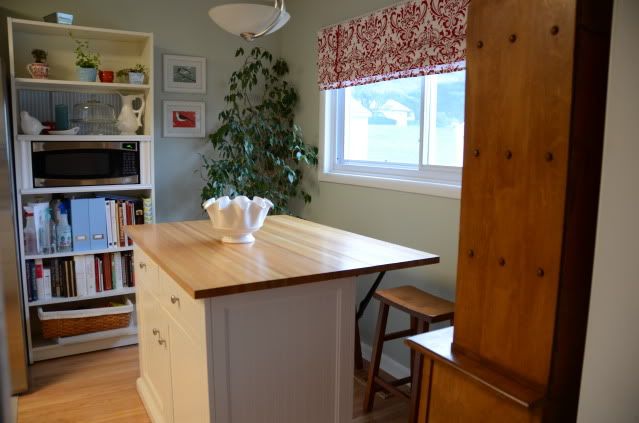 The bird pictures that inspired the color scheme of the room
I never thought I'd have a range as nice as this. I love cooking with gas now! The little retangular things on the wall are the old molding pieces that used to be in the middle of the cabinet doors. I painted them with chalk paint, and now I write my dinner plans there.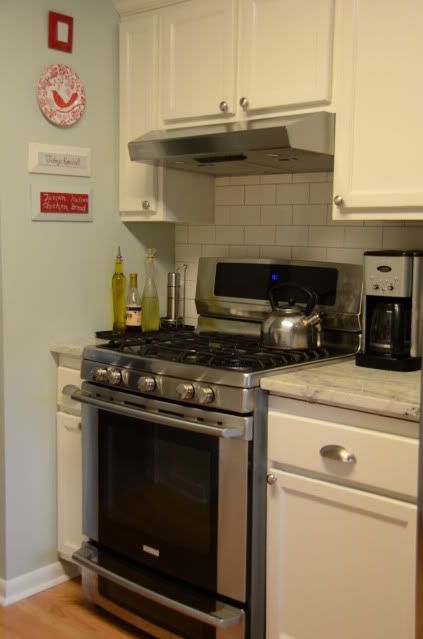 I've got a little tiger in the background...the dragon is taking a nap right now : )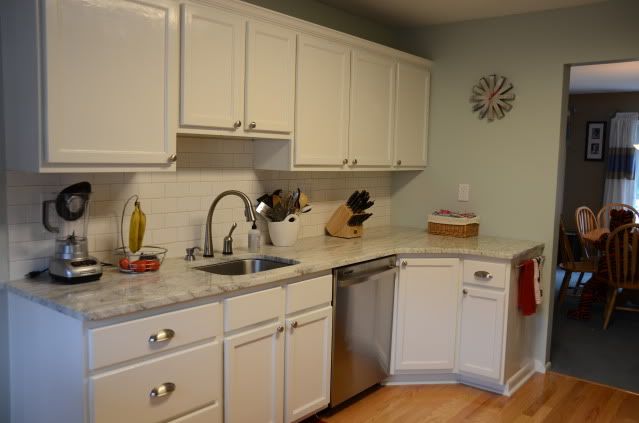 Closer view of my granite
This picture shows how much the under cabinet lights brighten up the space.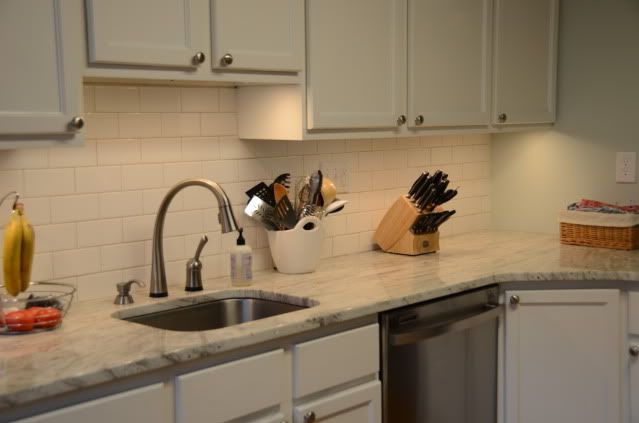 Thanks for looking and all your help during this process!