Your opinions on the exterior please
wi-sailorgirl
September 29, 2010
Some of you may have seen or even commented on my post in the HD forum:
http://ths.gardenweb.com/forums/load/decor/msg0921452119721.html?29
I've spoken with the designer (who I'm a little irritated with as I feel like this was an issue that should have been addressed a LONG time ago) and the builder about this problem more than I care to think about in the last 24 hours and I'm a bit cloudy on what to do right now.
A quick run down on the situation.
Here are the plans for the house. The issue at hand is the portico/gable over the front door: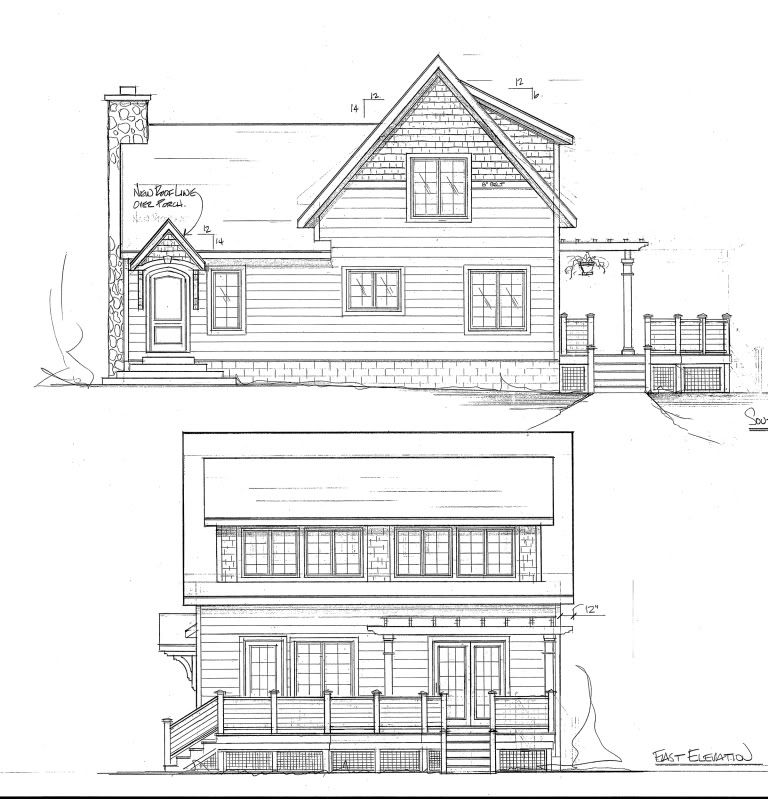 When we got the plans it was one of my favorite features. To me it helps balance the house and helps tie in the steep peek of the new roof, as well as the siding material, not to mention drawing attention to the front door, which, even though I painted it bright blue, kind of got lost before.
But at what price do I love it? I just found out that in order to have the gable, we'll need to run a downspout down the front of the house (probably over by the shorter window in the middle), then bore under the patio to direct the water out into the yard (before today I was holding out hope that our contractor would come up with a different solution but he says there just isn't one). The cost is one factor (and he's getting estimates on the boring for me today), but the sight of a downspout down the front of the house are a bigger concern.
Some people on the HD forum suggested a larger structure over the door. We could still do that (although honestly after sketching a few things out I can't say I like that any better than what's here, not to mention I don't want to mess with the stairs or the patio), but the downspout issue remains. Others suggestion a pergola-type structure, but to me that doesn't tie into the right side of the house as much.
So the question is, which is worse: No portico/gable or a big downspout down the front of the house?
Here are a few pictures that may help.
This is the original house (pre-reno)
This is what it looked like last night (sorry I didn't get a picture from straight on) with the new roof peak.