"Message in a Bluegill"
First let me say, I LOVE the GardenWeb Stained Glass & Mosaic Forum! I live in Northern Indiana where the winters are brutal (it is 7 degrees this morning; -7 degrees during the night). My "studio" is a converted outdoor tool shed that I have to shut down from December thru March because of the temps! This forum keeps me sane until I can return to my glass & mosaic projects in April. I spend these down months gathering ideas, collecting unique mosaic pieces & sketching designs. I wanted to share one of my favorite projects, "Message in a Bluegill" with y'all. She? He? makes me smile every morning when I open the family room curtains. It is whimsical, and a little out there, but that's okay. I have my artistic license!
"Message in a Bluegill" is an original design, and my 1st attempt at a 3-dimentional mosaic project. I made the head and pectoral fins out of oven-baked craft clay, added teddy bear eyes, and then mosaiced with glass pieces. The bluegill's body is driftwood collected from Folly Beach, SC and a glass bottle (purchased @ Michaels), reinforced together with black vinyl-coated wire. Corked inside the bottle is a map of the Atlantic Ocean (showing Bermuda), rolled & secured with jute twine. I added tiny seashells, transparent rocks for water drops, a rooster-tail fishing lure, and painted white "twinkles" on the eyes. The bluegill is suspended on fish leaders, and its overall size is 7" x 13". I had way too much fun making this bluegill! My next 3-D project... "Message in a Bullfrog!" Ribbit!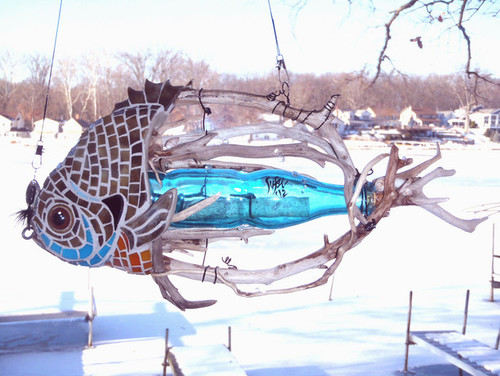 This post was edited by segrieb on Thu, Mar 13, 14 at 12:15