Not bigger, just better. Reno begins (pic heavy)
wi-sailorgirl
September 18, 2010
Things have been moving quickly on our renovation. I hope this pace continues.
Here's what our house looked like Sept. 1 (with our junk on the way to the dump on the patio).
They started by gutting the upstairs, uncovering a few surprises including cedar-lined closets that had been drywalled over (!) and some questionable construction techniques, including that the whole roof was braced on a non-load bearing wall and no headers over the windows. We'll definitely have a better house when we're finished with this.
This is looking into our bedroom, standing in the other bedroom. (Abandoned chimney was in the wall and has been removed.)
They started the major portion of the demo on Monday. Monday and Tuesday were demo and leveling preparing for framing.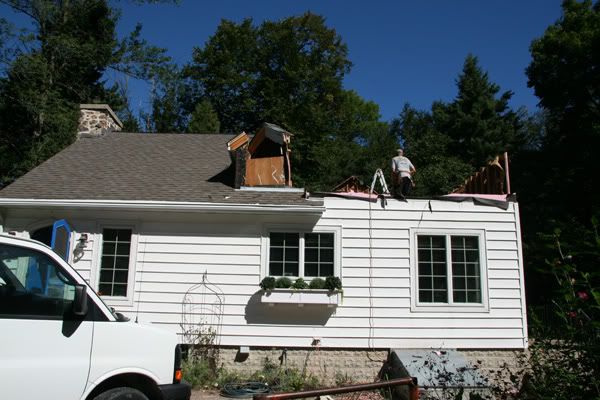 By Friday we had three ends up and sheathing on the east side of the roof. The other side of the roof is much more complicated as they have to figure out how to tie it into the existing roof, as well as create another small shed dormer for the bathroom.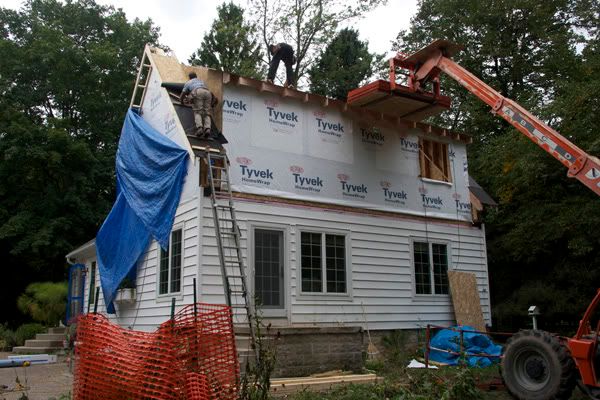 This is looking into the new master bedroom. The high ceilings will be so nice, since we had 7-foot ceilings that angled steeply in the old bedroom (severly problematic for my 6'3" husband). It will still be a small room, but I think the high ceiling and additional windows with create a much larger feel. The window in the end, however, is much lower to the ground than I expected and I'm not sure why. I had planned to do built-ins on that wall and put in a window seat, but I think it will be way too low for that. I have to ask the GC about it.
This is looking the other direction into what will be the second bedroom and bathroom. They haven't cut the window holes in that end yet. I find it amazing that it's all going to fit.
Unfortunately the destruction is not over. As you can see from this photos (taking standing in bedroom #2 and looking over to the other roof), the existing roof is sagging quite a bit. Next week they will start removing the ceiling from the living room to add support to the underbuilt structure and reinsulate.
The good part about that is that the textured plaster that is all over the walls and ceiling will be gone. Even if I liked the look (which I don't), those ridges are huge dust collectors. One should not have to dust their walls. Here you can see the texture I'm talking about. Everything in the house is separated by plastic walls: looks like a scene from E.T.