Living room almost done (pics)
Here's a fun before-and-after.
The battleship-grey (including grey ceiling) took several coats of primer and paint to conquer, but it's finally done!
I love this small house and so I've started a little blog to keep track of renovations - especially as I try to turn an expanse of crabgrass into a garden!
BEFORE: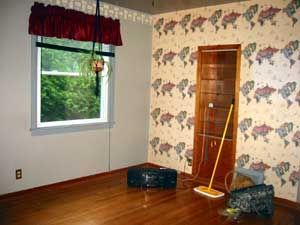 AFTER (so far):
Sorry this image is no longer available.
Here is a link that might be useful: My new smurf house