Newbie needs help with countertop choice!
Hi,
I love this forum, and have only gotten this far in my kitchen reno because of all the great advice here, so first, a big THANKS!
I have narrowed my counter selection down to a dark gray and a medium gray color. I want it to be pretty consistent (eg no speckles), but would prefer granite (virginia jet mist polished maybe?) over quartz (msi Q Premium Natural Quartz shadow gray or Concerto, it's $50 sqft installed, unlike all of the major quartzs I've looked at which seem to be at least $80 sqft) because of the posts about quartz chipping.
However, I was looking for help with
a. which gray (if either) do you like? (small samples of the 2 msi dark and light grays are in picture; my cabs are a laminate, smooth finish but there is horizontal grain).
b. any other granite suggestions? (I love basalinta but its way out of my price range)
c. I know its a dead horse, but will quartz really chip?? (eg, would you do quartz or granite? I have 2 boys under 2, so dont plan to remodel this kitchen again, so need it to last! I love honed granite but am too scared of it...)
d. Ive found only a few threads on Q Premium Natural Quartz. has anyone used it recently?
Thank you so much for any advice on any of my questions!
Ara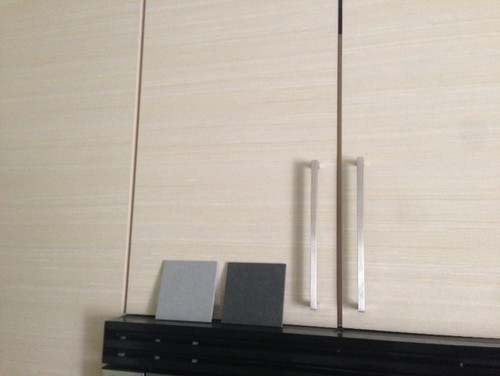 This post was edited by Arakashi on Mon, May 6, 13 at 14:43