Decorating my country kitchen
Ok. I need some direction on how to deal with this kitchen. I've realized that everything I like for the kitchen fits with French Country style.
I love the brick floors and the fireplace, but the wall color has got to go. Right now I have two samples on the wall and we definitely do not want the green. Of the two samples we like Edgecomb Gray, but I'm not totally sold. Quite possible it looks muddy with all that yellow surrounding it?? The living room is Lenox Tan and I love that color and want something that will transition well between the rooms. Any thoughts on Edgecomb Gray? Any other suggestions? I'm pretty open to considering anything (my dad talked me down from a chocolate brown).
The table will change to the one I am working on in the carport. I'm in the process of giving it a hand rubbed finish so it's going to look sort of farm rustic. My dad will build two benches for the stove side of the table. I will also be using the chairs that are currently in the kitchen on the other side. Will reupholster the hostess chairs to use on the ends when we're seating a crowd. I'd love to use a red larger checked fabric for the seat cushions. My delima is what to hang over the table. I've thought about two lantern style pendants or centering a chandelier. I would love to find a way to hang a pot rack over the table, but I worry that will be too much visual clutter. I really need some suggestion what to do over the table!!
The fireplace is another big issue for me. That long mantle throws me into a decorating fit. I will replace the fake fern with one of my grandmother's Christmas catus. Anyway, should I just decorate the area over the firplace box and the leave the mantle to the right empty? I'd love to put an old weathervane up there or possibly a rooster painting, but that's as far as I can get myself.
I will make a valance for over the kitchen window and the doors. I love Covington's Bosporus Toile in the Billard or Antique Red colors, but not sold on this fabric either. The only thing I know for sure is that I'm going to use a red checked (not gingham) fabric for the chair cushions...fabric for the windows and hostess chairs I feel I can't decide. Would love some input for colorful French country fabrics to use with a red check.
I'm really overwhelmed with this house. I've got so many different long term plans (additions and renovations) that dealing with simple cosmetic changes that will carry us for the next couple of years is too much. Oh, just in case it's noticed the weird areas around the microwave and above the fridge are going to be fixed soon...new appliances and those old cabinets don't really go together. Also, new stove will be chosen in the next month or so and will match the others.
Hopefully this wasn't too long and annoying. I know there are some great decorators here and I'd love to get some helpful input so I can just get it done and not stay in this decorating anxiety.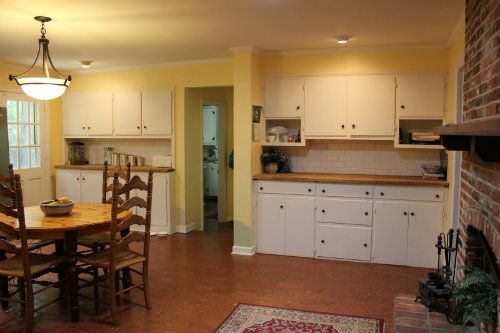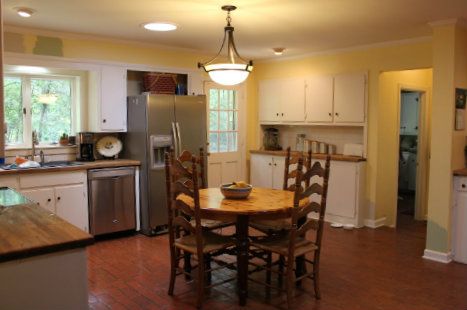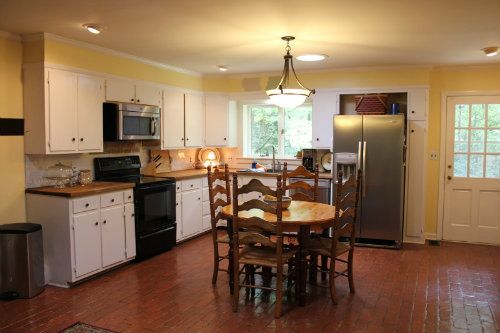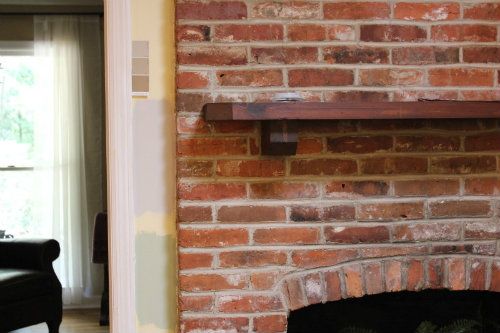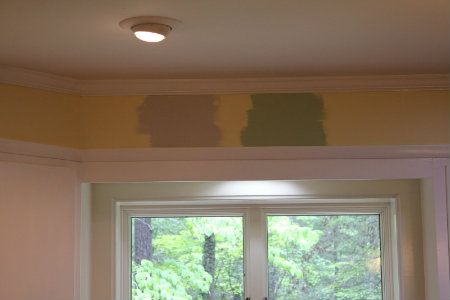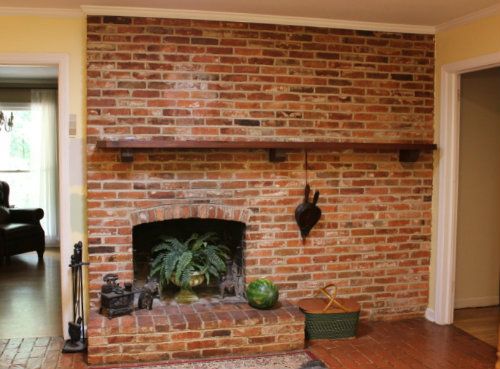 Table that is going to be replacing kitchen table.