Stuff Happening Part 2 - move'n, move'n, move'n
desertsteph
August 10, 2010
Moving the mfg home to my land... YES!
I heard big trucks on the road yesterday, looked out and saw mfg home passing my driveway... they missed it. Not too long after that it came back from the other direction...
The back pulled in -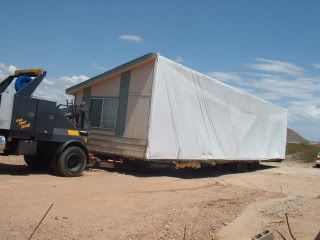 then the front pulled in -
and it pulled in front of the back -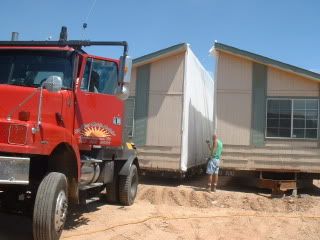 then they moved the front closer to the back -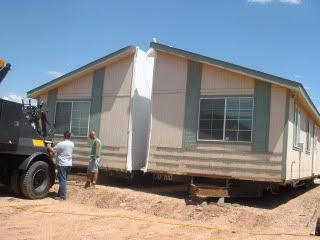 the front -
the back -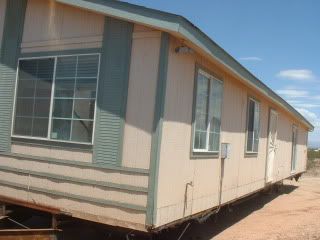 There she is... this was just a 'move it to the land' thing. The installer (and guys) will be out to lower it, level, put together etc.
It needs trim work replaced, painted etc - that'll be done next spring. If I survive the move INTO it. lol!
it has 3 or 4 broken windows (had at least 1 last yr when I saw it). The patio door glass pulled from the frame on one side - oops. dbf thinks maybe someone tried to break into it. BUT, the inner sides of it were only enclosed by plastic - so, that wouldn't make sense... He says we'll put a new door in there. Maybe a single glass door with glass side panels?
anyway, it's here now! finally! Now I think this might really happen... guess I'll start cleaning, tossing and packing again.
After this was done I spent an hour recuperating from it all - the heat, girl dog trying to get out there - boy barking at the trucks, guys, house parts, and the excitement from it finally getting here!
Then I took a shower, dressed and met my sister to get our 'feet done'. I now have pretty purple toe nails.
Later this week I'll go to the floor store and see what my options are... and another day I'll check out the flooring outlet over in AJ (about 30 miles).