Small entry area: ideas? (pics included)
melle_sacto
August 15, 2008
We have lived here 6 1/2 years--1200 sq ft starter home. During a recent kitchen remodel, I asked DH to build an additional wall to divide the entry from the dining room for privacy. I really like the wall, and I thought it would give me some decorating/storage ideas, but it hasn't. I was hoping you guys could give me some ideas for decorating and storage in this small space. Otherwise the entry is almost a complete waste of space. My decorating style is transitional/eclectic.
The wall opposite the front door is the side of a built-in storage unit that was here when we moved in. DH gave it an electrical outlet so I could put my aquarium in it. That wall is about 6' from the front door. The switch on that wall, directly across from the front door, controls a little light inside the display unit. The recessed wall is the new wall I asked him to build; it's 9' from the front door and 4' wide. To the left of the recessed wall, you can see a dining chair in the foreground and a small snippet of kitchen counter beyond.
Here is what the entry looks like when a person enters the house from the front door: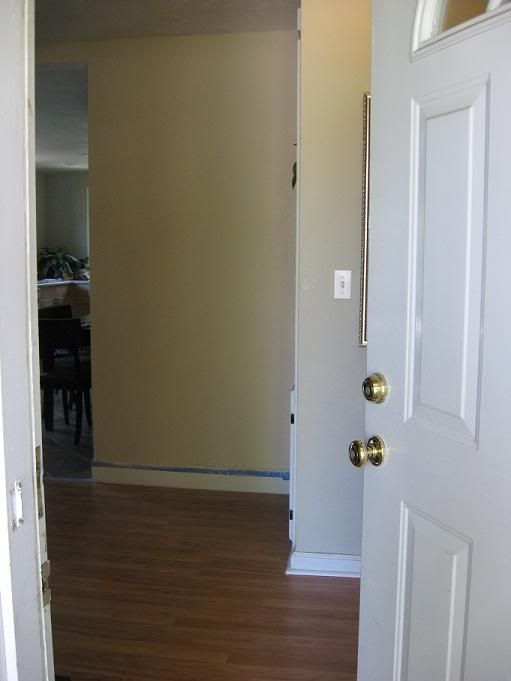 Looking into the entry from the living room (directly left from the front door) is the view of the aquarium and the hall leading to bedrooms. The door adjacent to the front door is a small coat closet:
A third view of the entry is from the dining room/kitchen. In this view you can see that the garage door is about three feet from the front door. It really bugs me b/c guests that are unfamiliar with our house have often tried to leave using the garage door. I wish there was an easy way to make it more obvious which door is which. I recently bought the storage trunk/bench b/c we are no-shoes house and it's a nice spot to take off/put on shoes.
I've thought of putting shelves on the recently-added wall, I've also thought of putting shelves on the wall between the front door and garage door. I don't know what I'd PUT on the shelves, so I haven't gone through with buying/installing shelves. I feel frustrated with the entry so I just ignore it, for the most part. It would be nice to have something pretty and welcoming. I have a 3 1/2 year old son and, within a year, plan to have a second child.