1920's Sears&Roebuck Bungalow Home
I was so delighted to read about the interest in my Sears and Roebuck Catalog Bungalow home, and even more delighted to start this thread to share info and pic's of my wonderful home (Thank you Kiki and Moccasinlanding)! First, let me make this very clear - the knowledge that my home is a Sear's catalog home from the 1920's came to me about 3-4 years ago when a local newspaper article showcased the history of these home (of which there are many in my town), and my block with 4 bungalow homes, including mine, appeared in the paper. The previous owner, a gentleman in his 80's who lives down the street, has confirmed verbally that this is a Sears home, but as far as any formal written documentation, I would have no idea where to begin to find such a thing.
I live in Plymouth, Massachusetts and purchased my home 15 years ago. I was recently divorced with 2 small children and purchased my house on my own. The seller took unbelievable care of this property as it was his aunt's home. It is approx. 1100 sq ft and had vinyl siding, updated electrical and plumbing, 10 year old double pane windows, 3 heating zones, town water and sewer, wood floors throughout, and an enclosed 4 season porch room with it's own heating zone and wood floors (I am not sure when the porch room was enclosed-there is a crawl space). I call it a "front to back" ranch. The 2 bedrooms are on the driveway side - a total of 6 rooms including the porch. There is a built-in hutch in the middle/dining room and a small room in the back of the basement where coal was stored.
Here's a picture.....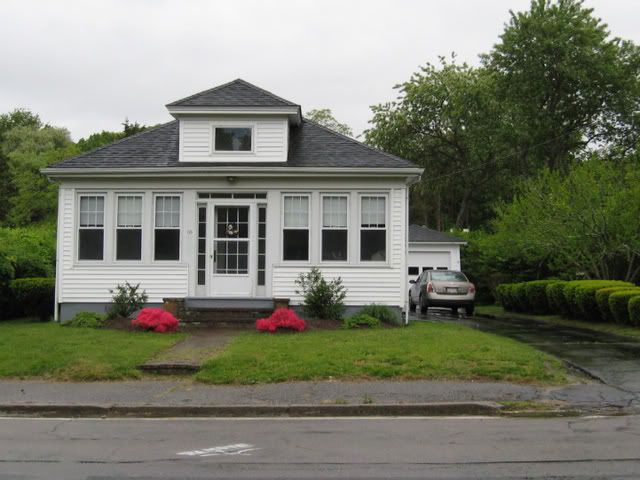 [IMG]
The contractors poured the foundations and the homeowners would pick their homes from the Sears & Robuck catalog. The home came to Plymouth from Boston on the train in sections. Destination here in Plymouth, MA was the Cordage Park which is in North Plymouth on the water - some kind of Rope Factory. The Cordage Park Shipyard back in the early 1900's was a major employer in town and many homes in the North Plymouth Harbor area are duplexes, and multi-family to accomodate the workers and families - many were immigrants - Italian and Portuguese.
[Here's a picture of my block with 4 Bungalow homes!
](http://s781.photobucket.com/albums/yy95/tracy02360/Sears%20and%20Roebuck%201925%20Bungalow%20Home/?action=view%C2%A4t=1920sSearsRoebuckBungalow010.jpg)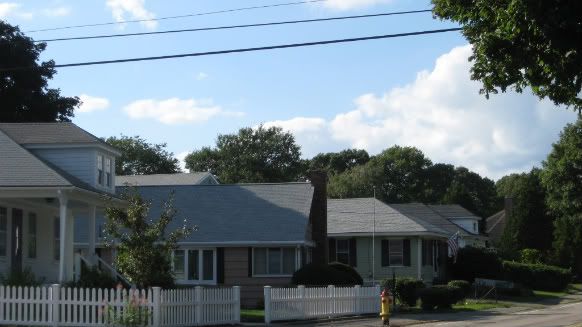 src="http://i781.photobucket.com/albums
As I stated before, the gentleman I bought the home from took incredible care of it. For 10 years the home "ran itself" while I paid the mortgage and raised my boys. In the last 5 years, and the with the help of Joe, my S.O., I have been able to give back to my house. I have replaced the roof, waterheater, and garage door. There has been a complete bathroom remodel, painting, and now a complete kitchen remodel which included major structural changes. I accomplished quite a bit, a little at a time, staying within budgets, and I will post a link to more pictures. I was sooooo moved by the beauty of this home when the walls came down. The different floors and wallpapers, the inside walls - BEAUTIFUL, clean, dry, built to last 1000 more years.
Thanks again for letting me share--I am so proud! I have opened my profile to include my e-mail. I never imagined there could be a book about these lovely homes!! I am curious if Plymouth, MA is mentioned, because there are many bungalow homes like mine here in America's Hometown!
I have tried to include a link with more pictures- hopefully it works - some of the pic's have captions and descriptions. So many homes featured on this forum have wonderful historical stories - I love to read about them and I thank you for the chance to share mine!!!
Here is a link that might be useful: 1920's Sears Catalog Bungalow