Our new DW condenses under countertop edge! Help!
lovetogarden_oak
May 5, 2013
Dear GW-ers,
We just installed our new GE Monogram Dishwasher a couple weeks ago. To our chagrin, we found that it vents upward (not downward as the appliance sales guy originally informed us).
The problem is the steam released at the end of the cycle condenses under the edge of our marble countertop, creating beads of water which then drips to the top panel of the DW and to our brand new hardwood floor. See photo below.
We called GE service center. They sent out their technician who said that this is a typical issue with top control DW that are installed under granite/marble countertop. Really???
We put a plastic moisture barrier between the DW top panel and the countertop, and there's still condensation beads at end of the cycle.
I am worried of cabinet damage as well as floor damage in the long run.
The appliance store is willing to take it back, and we can choose a replacement DW (paying the difference in price, if any) and will install it for free.
The sales guy proposes the Euro units as they don't vent upward: Bosch 800 Plus, Miele Classic, and Thermador DWHD640JFP (made by Bosch).
My concern is that the Euro units doesn't have a disposer and have filters that need to be cleaned out regularly. I am not into touching greasy yucky stuff. Also, I heard that the Bosch units can get smelly. Is that true?
I like the Kitchen Aid KUDE units but per a GW-ers', fivefootzero, experience, I am wary of Kitchen Aid dishwashers. Can anyone comment on their KA dishwasher after a couple years of using it?
Could you help me and let me know what DW you have used that you are happy with, especially those of you with stone countertop?
If you did have moisture issue or venting issue when you first had your dishwasher, how did you resolve it?
Our DW criterias are quite simple actually: clean and dry dishes well, reasonably quiet, has a delay start, disposer, towel bar, top controls and doesn't destroy floor or cabinet in the long run :) If you have any suggestions or recommendations, please post!
Thanks so much for you help!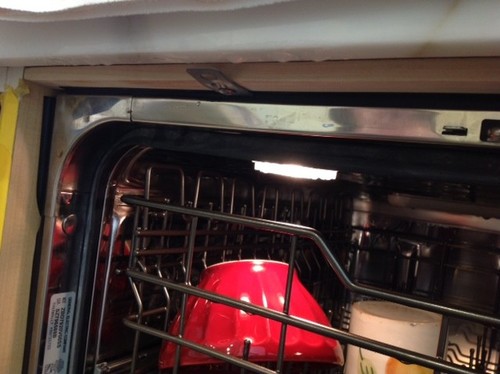 Here is a link that might be useful: Kitchenaid dishwasher vent issues