Here are A Few Projects to Share
I dug out a few of my older class projects to share with y'all. I really need to get busy painting and sewing...craft show season is almost here and I have no inventory YIKES...I mainly have handmade purses and accessories in my booth but I always add some of my painted projects too :) Ohhh I painted the ornaments last week...wouldn't ya know I forgot to drill the holes first silly me :( I need to paint some more little ornaments as I plan to have a little tree in my booth again this year. It's been a few years since I've had it in there.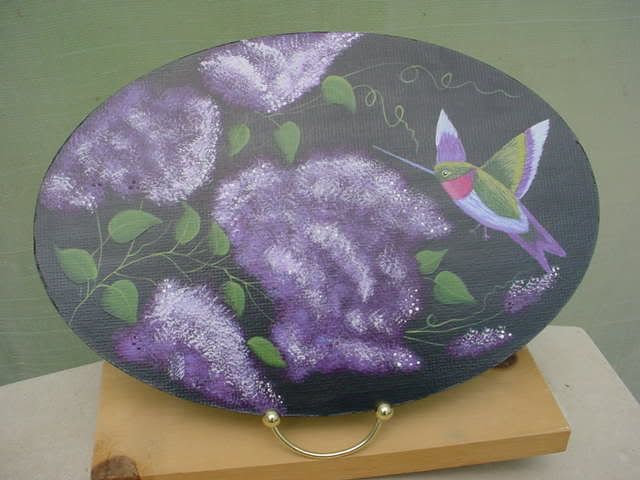 This is done on a piece of matte board. I couldn't find a wood surface the size of the pattern and didn't really want to spend an arm and leg to purchase one so while my friend and I were in and art supply store I noticed all sorts of these cut outs they had from cutting cutting mats for pictures. They were all colors, sizes, shapes and textures and VERY inexpensive. I thought...heck..no harm in trying it...I sealed it first then basecoated it. It took several coats, this one was originally brown and had almost a "canvas" texture. It worked really well. Only problem is finding a frame for it if that is what you want...or a hanger...i think you could glue one on...but I really like it on an easel. I also painted the back which took several coats because it's kind of plastic-y...but it could be spray painted. (again with the novel LOL)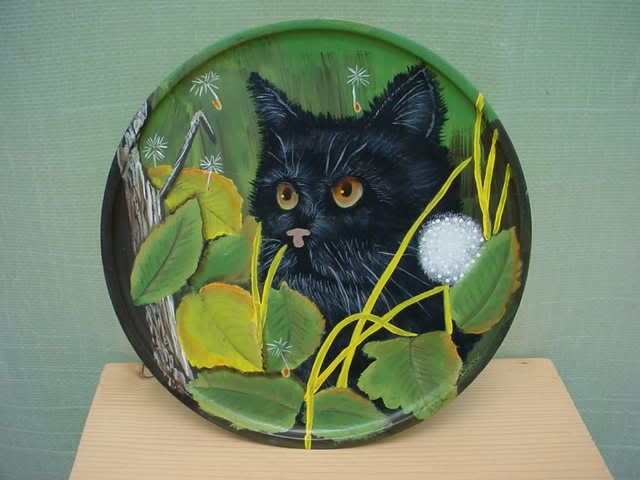 I think this might have been the second project we painted after my friend and I joined the painting group. I did mine on a wooden plate there were lots of different surfaces chosen for this project.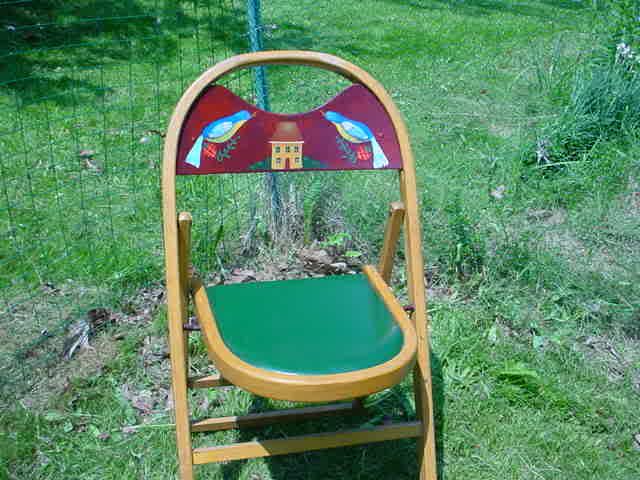 One of the ladies in our group got these chairs for free. She donated one to each of us to paint on all we had to do was sand the back to prep them as they did have varnish on them...some people said they wanted to recover the seat so it would match the colors in the painting better...I don't know what I'll do...it is really in good condition.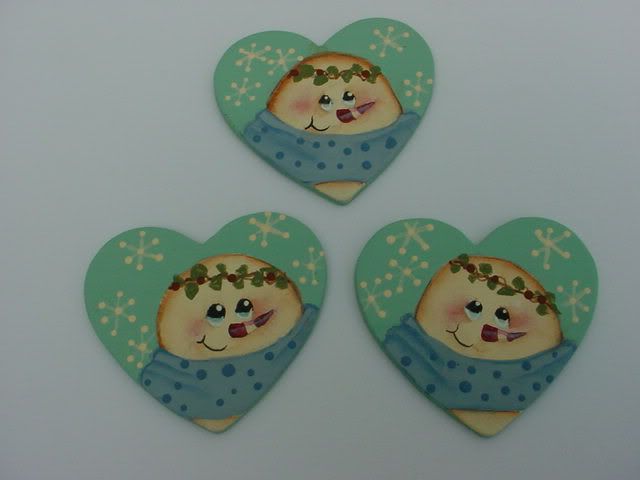 These little guys were inspired by a free pattern from Susan Kelly's site. I reduced them a lot to fit on the little hearts and she used stencils for her snowflake background and the swirls in the scarfs...I didn't have any stencils like that (and especially any that small) so I just did it "my way".
That's it for now. Let's see what everyone else is working on or has done in the past. You know we LOVE looking :)
Happy Painting,
Diane