Wooden sawblade and tiny landscapes
Here are a couple more pictures of some class projects. We painted on these wooden sawblades sometime last fall/winter. It was really a lot of fun and everyone's was different, some due to the texture of the wood and the way the paint soaked in (even though we sealed them) and some just by artistic "license". My friend decided she wanted "Molly" to be a black lady and she gave her a kitty standing beside her, some people had less grass in the foreground and more clothes drying on the ground and everyone's quilts were different.
The name of this design is called "Aunt Molly's Wash Day"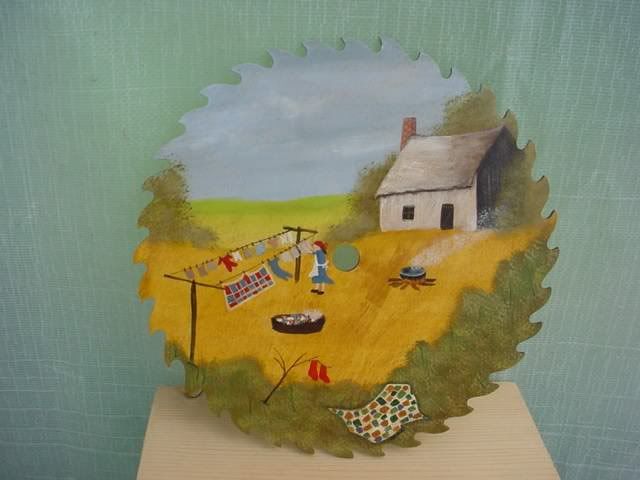 Here are two tiny paintings from Priscilla Hauser's book called "Painting Tiny Landscapes" (I think) These are done on 4x6 canvas boards but some of the ladies did theirs on the tiny stretched canvas (which is how they are shown in the book) so the painting "wraps" around the canvas and is really cool looking. Those canvases are kind of expensive and several of us decided to try them on the boards but I think I would like to try the stretched canvas next time.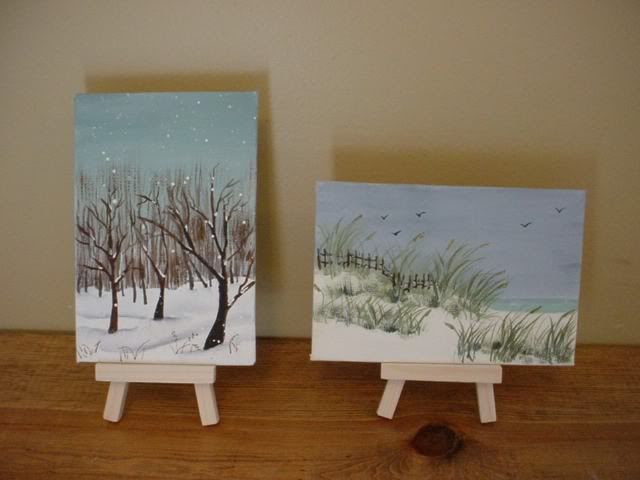 I'm not sure what the winter tree scene is called but the seacape is called "After the Storm" there is also one called "Before the Storm" with lots of clouds and a darker sky. I feel this is FL since I know that Priscilla had a studio in Pananma City Beach, but some people in my class think it looks like Cape Cod (do they have Sea Oats on the Cape??). My sand was whiter than theirs also (so was Priscilla's)..just habit and preference :)
Sorry to be so wordy, but as you get get to know me you will know that I am notorious for my "novels". You can just skip the "words" and look at the pictures if you like...it won't hurt my feelings :)
Happy Painting,
Diane