New construction farmhouse floor plan help
BuildinginVT
July 24, 2014
Looking for some advice/feedback on a floor plan for an 1800 sq ft "farmhouse" in Vermont.
Our requirements are:
-A decent sized mudroom for a growing family.
-"Office" aka kids room / guest bedroom that can be doored off to rest of house when guests are sleeping over (we realize this presents an issue with getting to the mudroom, but couldn't think a way around it while keeping bath very close to mudroom. and don't think it will be a huge concern. Basically, guests can close the hallway doors when they are taking a shower and open them when they are done).
-Full bath for guests/bathing kids while prepping dinner
-Normal-ish sized kitchen w/island, dining/living room area that are open to one another.
-Walk out back deck or patio
-Lots of light.... final window placement/size/number of windows is yet to be determined.
-Front door will basically never be used, so not meant to look inviting. We want to draw people to mudroom entry (where driveway pulls straight up to)
-Undecided on whether or not to cover part of rear patio/deck. Main concern would be blocking light and solar gains. I've used the overhang calculators and still unsure. a 6' overhang 3' above door will cause a decent amount of blocking (like half of the walkout doors) at 12 noon in the middle of March which can be a very cold month. It shows shading for basically all of April, May, June, July and August at the same time. I feel like anything like than 6' will be useless and anything more will block way too much sun. Not too concerned with overheating because it just doesn't get that hot here.
2nd story has 3 bedrooms , 1 shared bath and 1 master bath. Pretty happy there but we are much more concerned about layout of 1st floor, where we spend most of our time.
Dimensions are 26*32 and 10*14 on mudroom. = 972 sq. ft.
Max total sq ft right around 1800 sq ft (budget dictates... But we prefer small anyway). we currently have 26*32*2 floors + 140 sq ft, so 1804 sq ft. (972 down, 832 up).
Here is a pic of what it might look like except ours will be a 2 story. I will add that our lot is flat and sunny with trees much farther to rear of home, offering a lot of solar potential hopefully.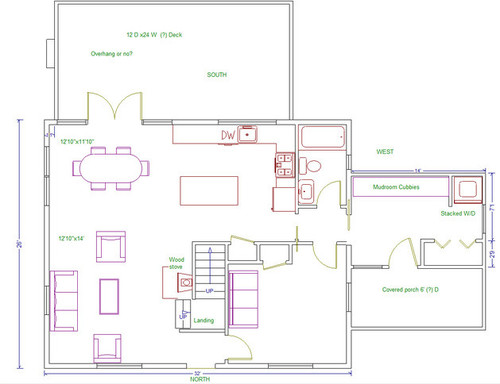 This post was edited by BuildinginVT on Thu, Jul 24, 14 at 19:08