Need fireplace surround & mantle help
Hi! My living/dining area needs help, and while I welcome decor suggestions of any nature, I'm most concerned right now with figuring what to change my fireplace surround and mantle to, as well as a color or finish for a new entertainment center.
Colors don't translate well in my pictures, so this is what I currently have...
Not changing right now: Lenox Tan wall color, Beige carpet, Dark brown furniture, rocking chair
DEFINITELY want to change: fireplace surround, mantle, and decor, tv stand (and what to put above it), dining set, art and plants/shelves on dining wall, front door window covering, end tables
I'd also be willing to change my dropcloth curtains (although they don't bother me), and pretty much any decor or accessories.
I don't have a "style" (which is why I'm here), but I tend to like "natural" things, and the colors blue and green. We like casual, and even "country-ish" or rustic stuff. We have a small house with young kids, and I just want help making it comfortable. If you made it this far, thanks! Oh, and please ignore the sloppy photoshopping of clutter above the tv stand!
ETA: Please scroll down to see a couple of things I found on craigslist to see if you think they would work. :)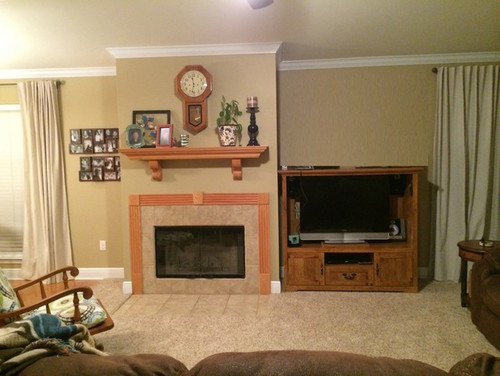 This post was edited by 30something on Fri, Jul 18, 14 at 10:54