My prim picture (repaint)
Hi. I finally got my little repaint picture done. I totally forgot to take the before....darn it. The whole entire thing has been repainted. Just the basic outline is the same. All the colors are different and I changed the houses up a bit and added a sheep or two and just crisped it up a bit. I got it at the TS and it was in pretty bad shape with lot of marks and scratches on it.
Note: I cannot take a good picture for anything.
The shading on the corners all match and are not so dark as they appear.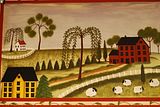 A little closer....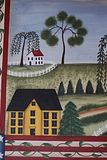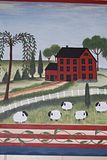 a little closer...
~Anj