Stuffs happening out here finally!
yep, 7 months after his accident dbf is back on the 'machine' clearing the space - making way to bring the doublewide here. he also had to clear a space for my dogs out back of what I'm in now so they'll be out of the way. My boy dog loves his 'daddy' and he watched every move dbf made on that machine. Every time dbf drove it past boy's pen he'd holler out to boy dog! my normally rowdy and vicious boy is a wimp in the presence of dbf. He'd leave me without a 2nd thought to go home with dbf!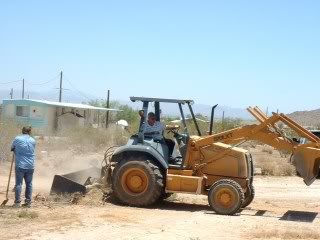 a friend of dbf's (and his wife) hauled the monster machine out here this time and stayed to help him. they had to measure off the area for the DW and put in stakes and water down the dirt. Another load will be delivered on Tuesday (I think then). I was out there until I got sick (heat exhaustion?). I came in to rest and threw up. my sister says that's heat exhaustion or heat stroke. I haven't looked it up yet. Did me in for the day.
dbf was back out here early this a.m. to water dirt more and drive the monster over it to pack it down. He then tore off the back deck of the trailer I'm in (what a mess) and moved a set of steps around to the back door. He wants me to use the back door while they work out front on the new place.