Newest Projects
pezabelle
January 18, 2009
Here are some projects I just completed, the top and bottom pictures shows my version of projects that I believe Luv posted. I am not overly happy with my Turkey, would make the waddle smaller and move the face down if I ever did it again.
The turkey (center) is made in 3 pieces, and I think I really need to add something to the head/body...its seems bare to me. Maybe a button with raffia or something - he just seems so bright against the tail feathers. Might even go back and base paint the body a darker color...just not happy with him! Any suggestions?
I would really like to have the pattern or some info on how the patio block versions were made. They would look great on my porch during the seasons.
Belle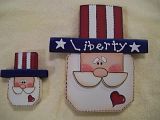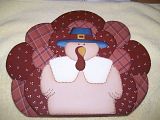 >