Recent TS finds
Luvs per your request here are a few of my recent finds. Some are things I need to paint or repaint. I got most everything for $1 or less.
These are a few Easter things and an Annie Doll. Her hair's a little skittywampus cause 2yr olds been dragging her around. There are some wooden eggs in the terra cotta basket for me to paint.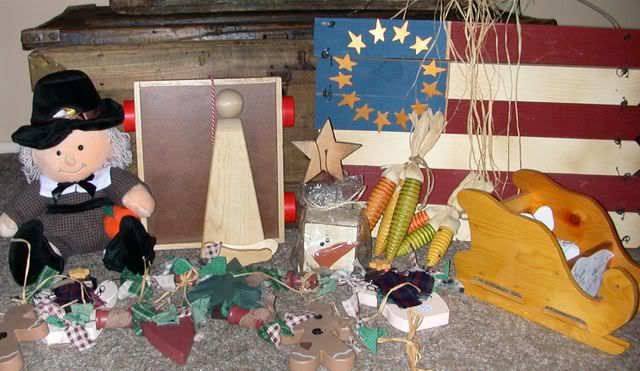 I love the wooden corn with real husks. The wagon and sled I'll be painting soon. You can see the pattern taped to the front of the sled. ha
Close up of flat wagon.
Maybe they should start a new forum....What did you find at the TS this week. ha I have lots more, but already put some away to work on later or until the next holiday. Got a huge pieced hanging heart with a Christmas tree cut out of the center, but it's in first coat painting stage oh and I couldn't fit the huge shelf in the pic. Too long. ha And a big framed watercolor painting for my DM and a framed horse pic for DD. If I sit here and think about it there's probably more. ha Fun stuff, huh?