Hey girls....
How's everyone doing? I thought I'd start ya'll out with a few pictures today.
Here are the purses and tote that I bought at the TS as promised. Bought them for $1-2 each. That stripey one is a kate spade. They are all like new.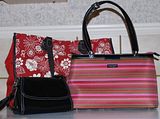 These are some dragonflies I also got at the TS....before and after. You can't really see if from the picture, it just looks like a nasty green, but it has a lot of different colors on it..yellows, greens, purples, oranges, etc and then there is a gold glitter on there too so it sparkles in the sun. It's pretty cool. The other one will be painted in pinks, purples and greens.
Ok, here is the little flower pot that my SIL requested. It's just a little simple smiley, but she liked the one I did for my other SIL and wanted one.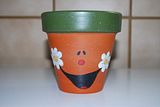 This is a little stitchery I did for my SIL too.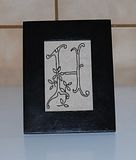 Ok, so I have been busy getting things together for my care packages that are traveling back home with my parents. Hopefully I'll get them all done today since they are packing the car tonight. I am just starting on a little sign for my SIL just with their name on it. Anyway, hope you are all having a good day. Thought I'd check in and finally put up the pics I promised. I'll hopefully have some more pics of actual painted items soon. C-ya ~Anj