Please help with counter/backsplash choices
I know I need to pick one, before the other, but I am having trouble finding inspiration pictures that have both elements that I like. We are getting white cabinets, wood top on the island and medium wood floor.
The backsplashes that I like in pictures are usually shown with a white/light counter which I don't really like with white cabinets.
Here are two examples of a backsplash I like, but I don't love the counter.
Traditional Kitchen by San Francisco Interior Designer Fiorella Design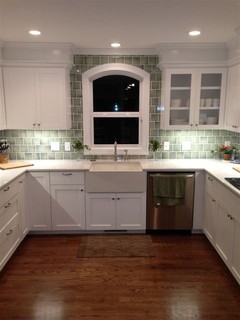 Traditional Kitchen Tile by Charlotte Walker Zanger
Here is another tile that I like:
Contemporary Bathroom by Austin General Contractor Soledad Builders, LLC
Here is another tile, but I don't like it with that counter:
Contemporary Kitchen by Denver Kitchen And Bath Exquisite Kitchen Design
The counters I see that I like are usually darker. I don't like granite with a lot of movement. I do not like man made materials with chunks in them.
Love how this counter looks, but what backsplash?
Contemporary Kitchen by Toronto Interior Designer Meredith Heron
I like this counter also, but not the backsplash:
Contemporary Kitchen by San Francisco General Contractor Mascheroni Construction
So I guess I have to compromise on either counter or bs, There are very few of each that I like and since the bs seems more prominent to me when looking at a kitchen, maybe I choose that first?
Feeling slightly lost, thanks for any insights...