Finished, sort of, small kitchen mostly DIY
We are almost "finished." We still have some finish trim to do and painting.... But, here it is. I am posting for folks w young families, tight spaces, old houses, smallish budgets compared to what is the norm, etc.
The kitchen is the back room of a small, 16x46' dutch colonial revival in Westchester, NY. The kitchen space is just shy of 9'x16' with a powder room boxed out in one corner and 2 doorways, one to the dining room/front of house and one to the basement/side door.
We lived here 7 years before making any changes. We researched extensively (thank you GW) planned, and mocked up options. I worked w an architect to see what was feasible structurally to change and/or add (not much bc my little house is at our lot FAR limit!) And though we looked at plans to just open up to the dining room that created other (very expensive) issues and I love my dining room.... I interviewed many cabinet places and GCs but so many were busy with bigger projects that my little budget and space didn't garner the attention/time that I wanted and I knew I could give myself. DH and I did it all, from demo to finish, except the electrical update, gas line move, and countertop fabrication. We took our time, but I was only without a working kitchen for 2 weeks and for those 2 weeks I was only missing a sink!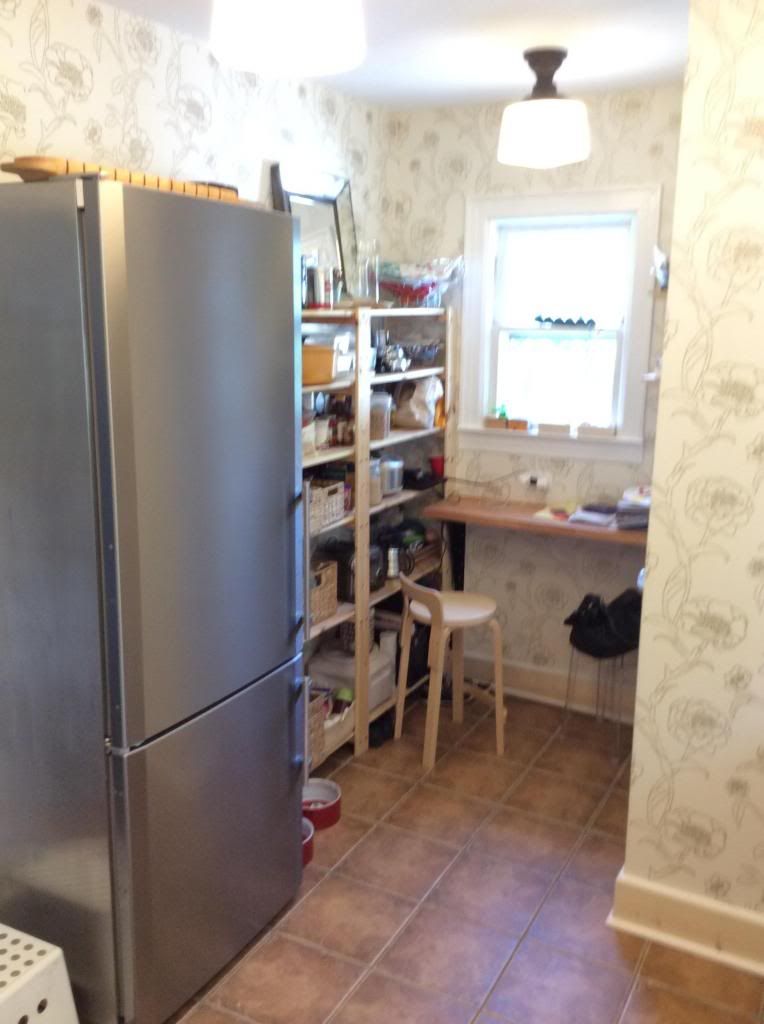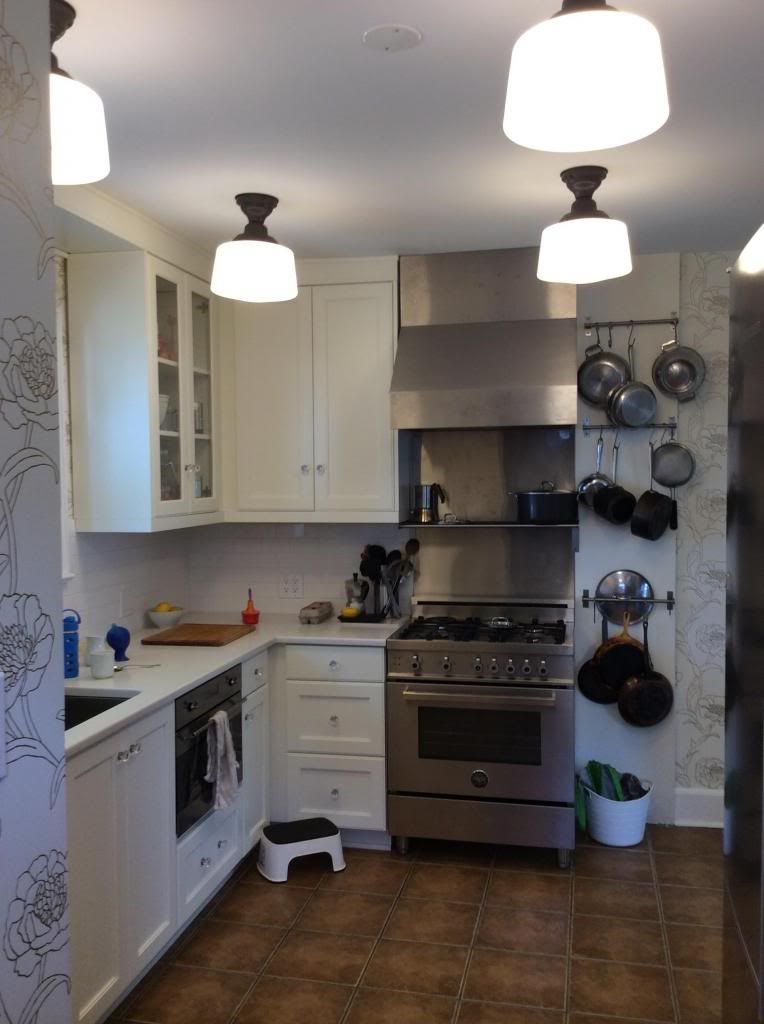 Details:
Ceasarstone Frosty Carrina countertops(love)
Barker cabs, great to work with! Dover white, San Francisco door
Berta pro 30", love it sits flush w my cabs!
Ventahood mounted at it's height limit! Just enough ventilation but not too much noise.
Smeg speed oven, cute and functional (old mw didn't work for years so this is exciting)
Liebherr, 30" real counter-depth, love my tall skinny frig! More than enough storage for how this family of 5 lives/cooks
Dcs tall double dish drawers, love the ease of use and, as my 8 yr old said the first time she unloaded it, "mommy, the dishes are clean!"
Oct glass knobs to match my original door knobs ?
Small maple butcher-block, perfect plank
Stool Artek 65
Open shelves, William Sonoma Sweedish Shelves
Wall shelves Ikea, wood and ss Gruntal shelf and rails
Schoolhouse Electric 5 6"northwestern lamps w LED bulbs installed (Thank you to yesdear who had an amazing kitchen posted years ago; his pictures helped me convince the DH that surface mounted lights was the way to go for our space)
Wallpaper, inked peonies (got this 6 months ago, just waiting for the reno)
Backsplash tile is white from Johnson Tiles, is is slightly creamy white w a great finish and feel (I resisted tile but I did it and I am happy and DH loves it, though I really need to add that tiling a wavy wall has it's challenges)
Faucet, Waterston Hunley and contemporary side spray (I did lots of work on this decision and this was the right set up for us. Love it)
Sink, 24" Franke 10" deep (love)
Old ugly to me ceramic floor, finally looks like it fits in
Our goals were:
1. Create a safe exit path to our side door and basement playroom/laundry. Formerly there was a 21" pinch point.
2. Shift the powder room door out of the main kitchen area. Formerly the powder room door opened directly into the main kitchen area, (right next to the sink), limiting usable counter/storage, and creating other issues.
3. Create a secondary prep space, improve useable storage, replace broken appliances!, relocate OTR, and get a spot for garbage (besides a huge can in the doorway that everyone tripped over)
4. Make a small spot to sit! (Besides the powder room!)
5. Oh and update electric! Everything in the kitchen, except the frig, was on the same circuit as every other outlet and light in the house!
The frig, sink, and range stayed roughly where they were. But, in reality things shifted a few inches which helped make big improvements. We optimized space by getting space efficient appliances. We shopped for over a year for floor models, ding and dent specials, and sales. The sink is huge for us, but the cab is only 27", allowing me to have an 18" double garbage pullout, dw, and a mw all in a row.
I'll post more details for anyone who needs/cares. A few oddball choices:
The dw placement may seem odd; it is against a wall (w filler), then 18" garbage, 27" sink, 24" speed oven, 12" tray/corner.... I wanted clean up away from my main prep, we scrape and load.... The garbage sees a lot of action and I didn't want it in my prep space; I have a small compost pail. My working kitchen space is 132" x 75" "L" and mocked up every option we could think of. The speed oven is in the main prep space because this is how we use the mw and the oven.
We have had this set up now for a month and really works best for us. It gives us two good prep spaces. It allows clean up to be separate from the main prep when needed. We love it! Happy to answer questions about our choices and trade offs. And I'll post Picts of the powder room separately and I need to find old Picts/post for a comparison.