Need Layout Help- Small Kitchen causing big problems
I am a first time poster to the smaller homes forum as I have been hanging out a lot at the kitchen forum. However, I think this question is less about kitchen layout and more about first floor layout. Let me explain. DH and I purchased our first home, a 1957 ranch (1400 sq ft -3 bedrooms, 1 bath upstairs, 1 in basement, basement is mostly unfinished)3 years ago. Currently it is just DH and me but some day soon we hope to have children. I also love to cook a do a lot of cooking. From the time we purchased the home we knew we needed to remodel the kitchen. First there was no dishwasher but later we discovered other problems, not a lot of storage, no counterspace, a wall between the dining room that made me (the solo cook) feel cut off from everyone else. Also as we lived in the house longer we realized that our house was kind of a maze. To get laundry from our master bedroom to the laundry room in the basement it needed to travel past or through every room in the house. Also our LR though not small is VERY narrow and was a sorta traffic bowling alley because to get to the kitchen you had to travel the entire length of the room. This is a photo from the realtor when we purchased the home but it helps give you a better idea of the room. So that is not my furniture. Also we have removed the carpeting and refinished the hardwood floors underneath.
Here is the floor plan: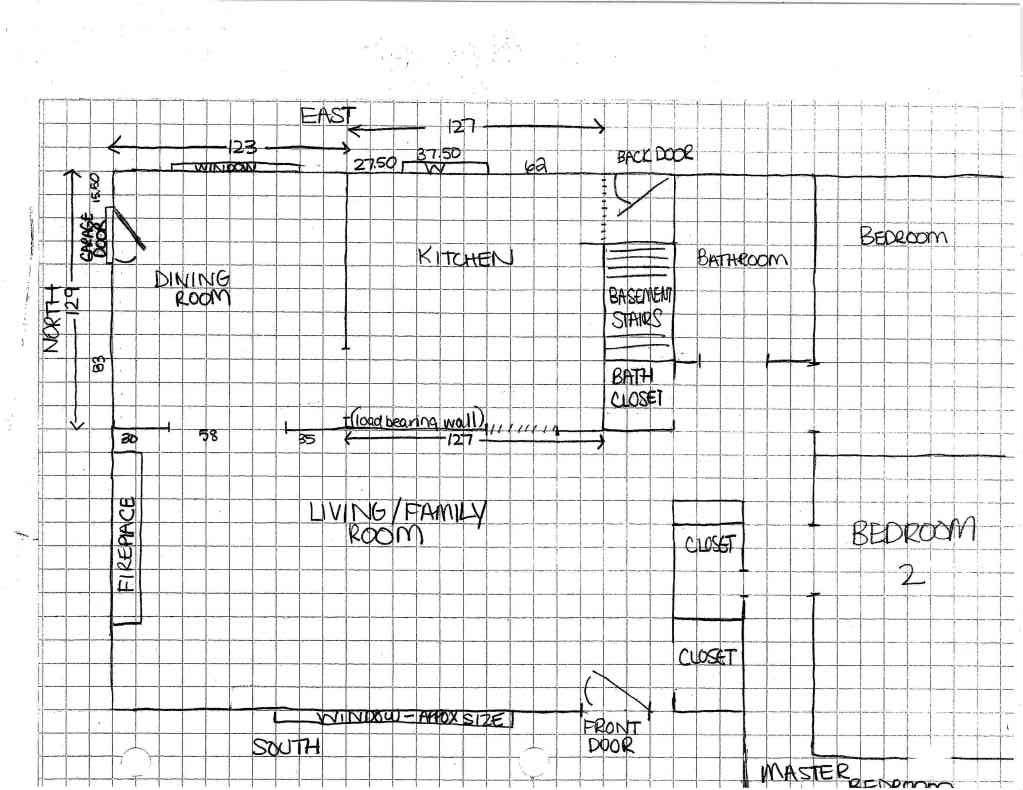 Good news is that now we finally have scraped enough money together to tackle this kitchen remodel (but on a budget, think nice appliances and countertops but ikea cabinets). More good news is that we can slide down the entrance to the garage on that wall if needed. We can also change the size and location of the two windows along the east wall. Someone on the kitchen forum suggested reversing the basement stairs and relocating back door to a sliding door in the DR. We have not got a quote on that-- so not sure if that is within budget or not.
We have considered several options including flipping the DR & Kitchen, adding an opening in the LR wall into the current kitchen (that would be where those dashes are on the above drawing). However some have suggested that if we do that, that we keep the existing opening, but shrink it some. DH is afraid that the living room will become "swiss-cheese" like with all of these openings.
Any advice? I can post some of layouts that I have come up with if that would help. I just do not to create new problems in LR & DR but trying to solve my current kitchen issues. Thanks in advance!