Small house..why do I love thee?
After discovering this forum last night I was hooked. Stayed up into the wee hours reading posts and was so happy to find people who were happy with what they have and who don't have the mentality that "more is better." There are many posts on why we love our small houses and if you have some to add..feel free. For me it mostly comes down to cost. Who wants to pay thousands of dollars EVERY MONTH for a house to keep you're stuff and family?
I live in Va Bch.
I have a 2 bedroom 1 1/2 bathroom townhouse and I love it. It's approx. 1200 sf and it's perfect for the three of us and occasional person who stays with us. (friend or family)
I have a small bathroom downstairs that we just painted.The color was supposed to be beige or a sand color for the beach themed b-room but it didn't turn out that way.Ironically, the color turned out to be the EXACT same color we painted out back room which I still (after 8 years) haven't discovered what it's supposed to be. A den maybe? Dunno. Anyway, back to the bathroom.
Turns out I'm not quite the painter I thought I was.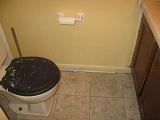 Oh well. It was all black with this horrible gold paint mixed in. Whose bright idea was that? Time to invest in a new toilet seat.
Here's my garden from last year.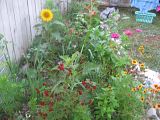 I love my little plot of land.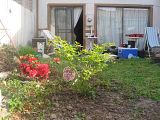 Mowing takes all of 10 minutes with a weed eater. Cleaning takes all of an hour to do the downstairs. The bedrooms are a different story. Laundry is my enemy.
I love my quaint little house.