Would you trade drawer space for your sanity?
desertsteph
March 21, 2012
I am. I have so little left! Sanity that is...
I measured my cabinet widths and drawer space opening then calculated how much I'd lose by NOT changing the cabs out for frameless. I'll lose somewhere around 24 - 30" or so of drawer space. Depends on if I put in 3 or 4 drawers in a stack.
Some might argue that what little sanity I have left isn't really worth saving tho! While I might hold on to that little fringe section I have left by avoiding the mess and trauma of ripping out and replacing the lower cabs (not even to mention the expense of it), there probably isn't enough sanity left to even store in the 30" drawer if I had it.
When I get to the point of actually working on my kitchen cabs I hope someone will remind me of this if I post that I am having them all ripped out and replaced to gain that extra drawer space.
an example of how quickly one's sanity can fail them -
until about six months ago I was thinking along this line - a nice medium tone oak...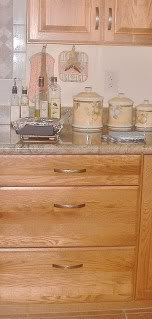 then this invaded my thought process - turquoise
this past week? purple!
what's next? turquoise uppers WITH purple base cabinets?
SNAP, CRACKLE & POP! (brain cell movement)
you are all so awesome - without so much as a word from any of you, you've solved it!
turquoise in the kitchen and purple in my bathroom?
I feel a tremendous release of pressure between my ears...
what do you think? (about the colors and locations)