Progress On My Small Fixer Upper
Here is our progress of late. The kitchen tile is done except for the trim! DH and friend had to cut through two linoleum floors and subfloors. The landing from the breezeway is done in the same tile.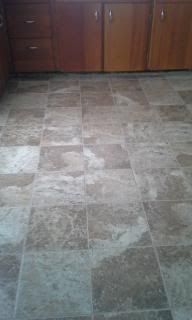 The kitchen layout is terrible and there is no dining room in the house. You really have to love a house to accept that and we are lucky we do and our kids are grown. I want to use a copper tin backsplash which will be another DIY project. Maybe one day when the house is paid off I will relocate the bathroom which is next to the kitchen to the office and made the bathroom the dining room. Dreams.....