New here: Before and after projects
kennedyzdad
March 27, 2011
Here are some before and after projects that I've completed in the past two years. Tell me what you think.
Exterior before
Exterior after
Front door painted Cherry red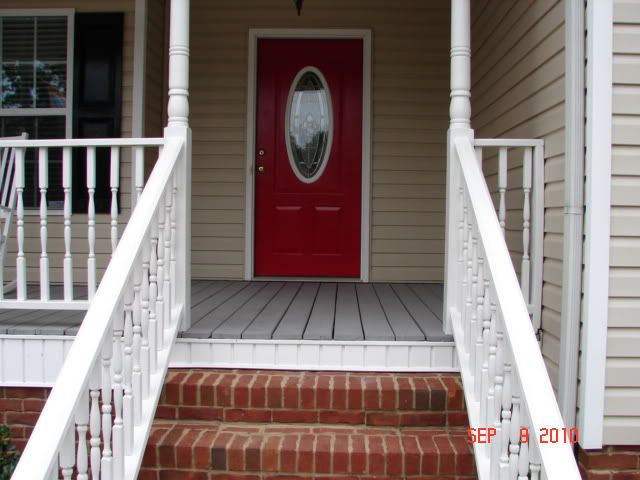 Front porch stained in grey
Dining Room before
Dining Room after Wainscoting
The burgandy or some what red exterior was nice when we first bought the house. It was a new build but after five years, the shutters began to fade alot. I removed them and painted them black with a vinyl spray paint. The little plastic barbs had all broken and caused some of the shutters to fall in heavy winds. I replaced all of them after drilling out the remaining pieces in the holes and then applied silicone into each hole to secure the shutters while reinstalling them with new barbs.I also applied three coats of paint on the shutters and allowed them to dry for four days before reinstalling.
The dining room was just blah in my opinion so I installed bead board around the entire wall. I didn't want to have to remove my baseboards so I got creative and was able to install the wainscoting on top of the base board then I attached lattice strips on top of it to cover the gaps. My base boards are made up of three pieces and the lattice actually makes the top even with the bottom so that it all looks like one piece. The chair rail is actually baseboard that I turn upside down and ripped a 1 inch seam on the back side of it with a table saw so it would fit down over the top of the beadboard.