Built-ins installed
wi-sailorgirl
February 21, 2011
Awhile ago I asked for some opinions on my design for the built-ins in our bedroom and people here were very helpful. I haven't had a lot of time to hang out here (I'm bound and determined to finish up the projects in this house before gardening season comes around), but I wanted to stop in to show you how they look now.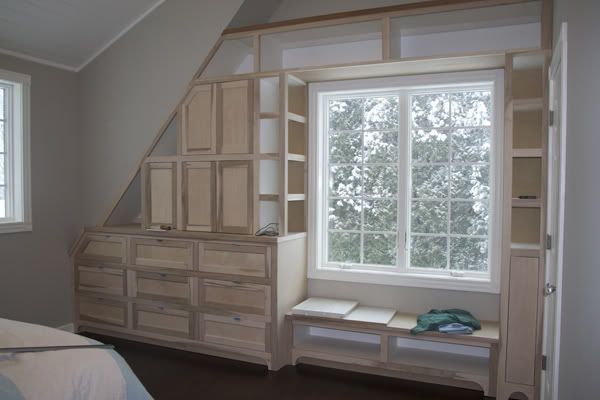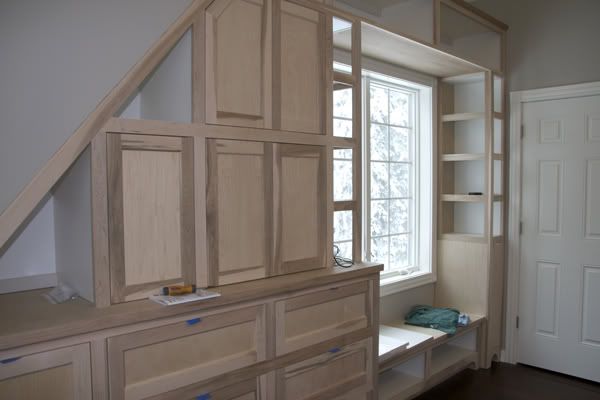 Obviously they need to be painted (which I'll do as soon as I finish the stairs). I probably made the dresser portion a little too high, but I think it's OK. And the window seat looks shrimpy but I'll put a 4-inch cushion on it like I did in my kitchen so it should end up about 21 inches high and quite comfy. The bookshelf type thing over the top of the window was a last-minute add on because I felt we needed something to bridge the gap between the two sides of the built-in. It's very high and I won't be able to reach it without a step ladder so not the most functional thing in the world, but more storage is always good in a small house, right?
I'm pretty excited about it. And the drawers are all full extension so you can actually get to those last 3 inches in the back of the drawer! It's the first decent "dresser" I've had since I was a little kid.
But this is what I have to finish before I'm allowing myself to work on the built-ins: the staircase from hell.
Some previous owner painted over the dark stained and polyurethaned risers, but failed to sand or prime first so they've been a mess since we moved in and I finally decided to make it right once and for all. Not fun. It's going to make painting those built-ins downright fun!