To architect or not to architect?
NashvilleBuild42
February 26, 2014
We are all set for a property walk through with the architect Friday. We would actually sign contracts etc at that time. However last night I was searching for open concept living and dining images when I came across this stock plan from Marianne cusato.
It's a little bigger than we we're thinking but we love the flow. We also would just build a detached cottage for the MIL apt. In te situation probably the Bartlett cottage or Betty cottage by Ross chapin. The nice thing is if the MIL would need greater supervision etc we could move her into our home given the 4th flex room on 1st floor. It seems to meet our needs.
But I have concerns. The architect estimates that excluding land this home would cost only 150k to build. I am assuming that means the house is 2x4 framing. We were discussing SIP or ICF an ha decided the bare minimum we'd do is a basement (tornado protection) with 2x6 advance framing with blown in cellulose and foam insulations with the highest quality energy efficient windows. Now we could easily upgrade windows or doors or insulation. But how hard is it for the builder to switch to 2x6? Will we have to have the plans redrawn by an engineer? If so would that still be substantially cheaper than the 15-20k we anticipate our architect costing?
Any thoughts on the homeplan? We understand our finish choices will drive this price way up. Budget isn't our concern. I mean it is to a point but we could double this to a cost of 210 sq ft and still be within our budget. We're more concerned with flow and the feasibility of using this plan if we wanted to use different framing techniques.
I welcome critical comments! You all helped me so much in the past realiZe other stock plans were not for us.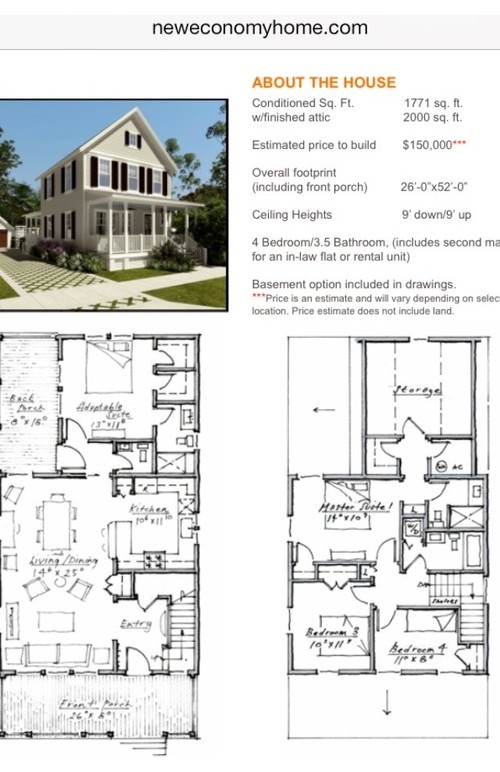 This post was edited by NashvilleBuild42 on Wed, Feb 26, 14 at 9:14