Under 2K mini make over pics
This is a cross post, as I already posted on the home decor side. But, since I've asked 100 opinions on both boards, I thought only fair to post here as well. :) And I know a few asked me to throw out some pics over here when we were finished.
It's not much to show off, but it's what we had to work with. And it's pretty much done. We have some finishing touches, light molding, under cab lights, etc.
I tried to do a very subtle two tone color scheme with the cabinets. Looked good on all the sample boards I painted, and held up. But, in the end the lower cabs just aren't dark enough. And don't provide the contrast I'd hoped for. But, it's no biggie. It's 150 times better then the oak, so for now..I'm good. We'll repaint them soon enough. It didn't take much for us to do the boxes (we painted them ourselves) and my painter was pretty inexpensive (had the doors and drawers sprayed)
I'd love to replace the floor and appliances. But, it's not in the budget. (well, we are getting a new dishwasher, just not SS) And this is also a house I'd hoped to have been out of by this year. The market isn't in our favor :) So, I've been trying to make our cookie cutter kitchen more tolerable. I'm happy enough with it. If nothing else, burned out. Just to be rid of the oak cabs makes thrills me.
Thanks for everyone who advised me over the last couple years. I sooo appreciate it!
small breakdown
Counter top-belle noche, wilsonart high def ($800)
backsplash-cheapo subway tile from Lowes (200)
cabinets-$100 in paint, and $200 for painter dude to spray doors and drawers. uppers BM white dove. lowers BM baby fawn.
$30 for cabinet maker guy to cut out the middle of four doors, and $50 for glass company to add glass
knobs-$50 Lowes
drawer pulls $20 ordered on line
beadboard, molding, other building materials $100
before
now
favorite thing is how dh beefed up the moulding. so we no longer have that huge space above for dust collectors :)
after subway tile and counters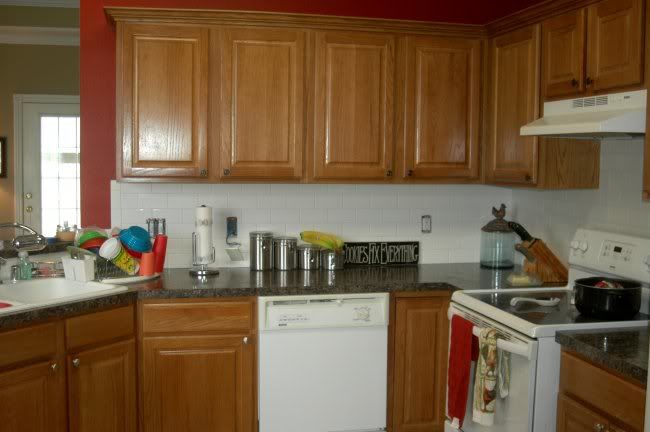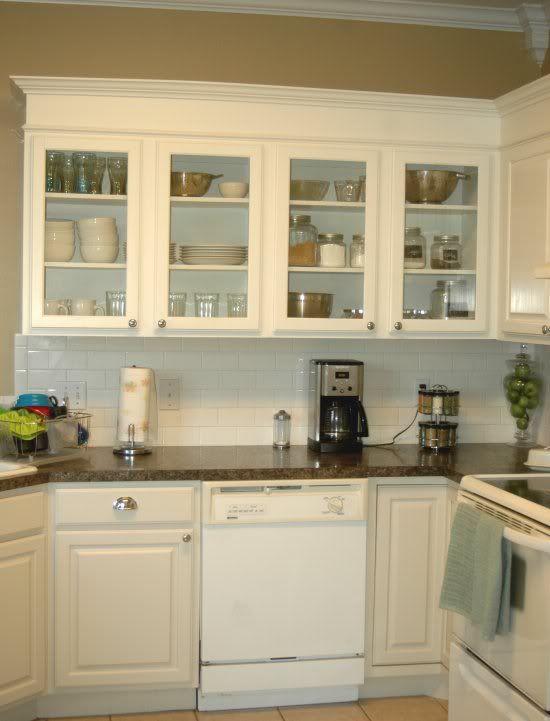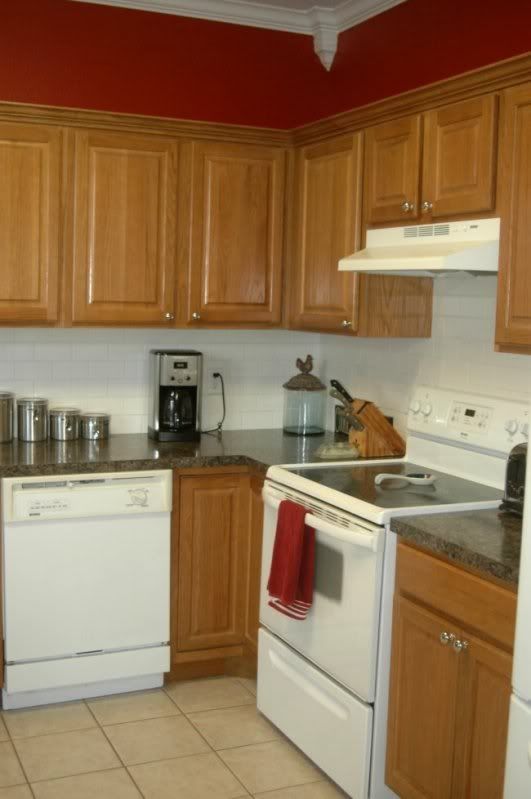 dh put beadboard along the back of the bar, and end of cabs