Roof Certainteed Landmark Designer Shingle Color
roofcolor
November 10, 2013
Need help choosing shingle color for the CertainTeed Landmark Designer architectural shingle.
http://www.certainteed.com/resources/LandmarkSeriesBrochSoutheast.pdf (page 14).
If anyone knows the cool/warm colors of this line it would be helpful.
I believe the moire black is closest to what I have. Roofer says it will be darker. I was wanting to go somewhat lighter. I live in GA where it gets over 100 in the summer. As you can see, trees are around the property. Does that mean I need to stick with a darker color due to staining? I uploaded my photo to the CertainTeed website for color selection but.......... am waiting. Hope it's not the 5-7 business days. Had a medium gray in mind, but that may not exist for my house. Would the Georgetown gray work? From the net pictures, it seems to be busy. Don't know if it is like that in person. I have a sample board of weathered wood and driftwood. Driftwood seems to be the wrong tone for my warm toned house. But, I really don't know or I wouldn't be asking. Roofer said weathered wood would read green on my house - if that's a bad thing? By the way, ignore lack of landscaping, have pulled up the foundation shrubs. Also ignore SHUTTTER & DOOR COLORS am open to changing them or maybe even removing shutters.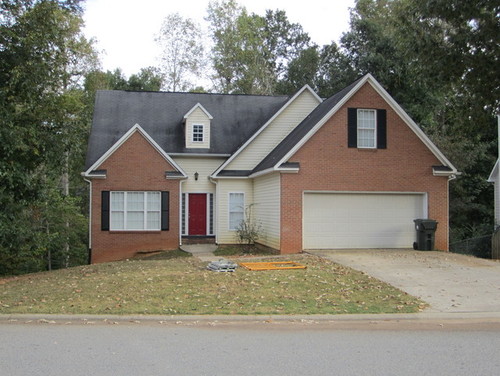 This post was edited by roofcolor on Sun, Nov 10, 13 at 20:32