Need problem solver for lighting dilemma
jaynes123_gw
July 14, 2014
DISREGARD--- already resolved
Thanks anyway-----------------------------
-------------------------------------------------
NOTE HOUSE IS ALREADY WIRED,
Not insultated so rewiring can be done but trying to avoid cost of it.
New construction, elevated with ground floor unoccuppied underneath. Attached is location of for ground flood lights, switch at front and at back of house.
We want them motion detector floods although #1&2 dont have to be motion detector.
Problem is #1&2 are only lights for the pool so when at pool at night, want #1 & 2 able to stay on without requiring motion. Assume motion and non-motion can go on same circuit.
BUT
If 1&2 arent motion, then when we turn switch on so other 5 motions are activated overnight than reg 2 pool lights would end up lit up all night long into the morning
Is this impossible to avoid without rewiring?
Could use a motion light which could manually be switched to stay on without motion.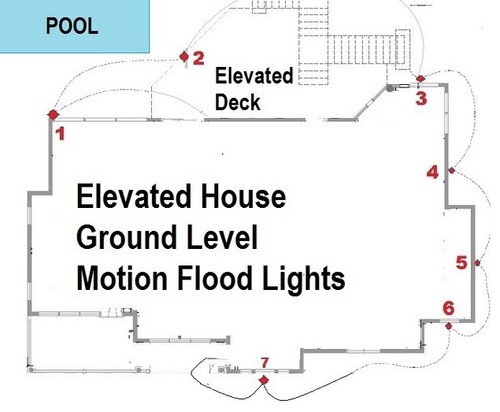 This post was edited by Jaynes123 on Mon, Jul 14, 14 at 14:08