My Summer Decorating Projects: Before & Afters
lynninnewmexico
July 30, 2014
I've spent weeks and weeks this Summer hitting every thrift and consignment shop in the area for things to help furnish DD's new home at college. As some of you might recall, her sorority house had a major fire 2 nights after the girls returned from their Winter Break this past January. Many of her possessions were ruined. All the girls had to be relocated to furnished campus housing for the remainder of Spring semester. As their sorority house is still in the process of being rebuilt, this school year
(her junior), she's renting a beautiful old home with 2 of her sorority sisters
just a few minutes walk from campus. DH & I've just returned from following her back to college, with our pickup and her SUV totally (110%!!) packed with everything.
I wanted to share a few of our Befores & Afters with you. She and I redid things together, but DD made all the final decisions as to color choices, etc. I think that she did pretty darn good for a 20 y/o.
I got this great, very heavy, clean, and well-made slant-front (drop leaf) desk at a consignment shop for $55.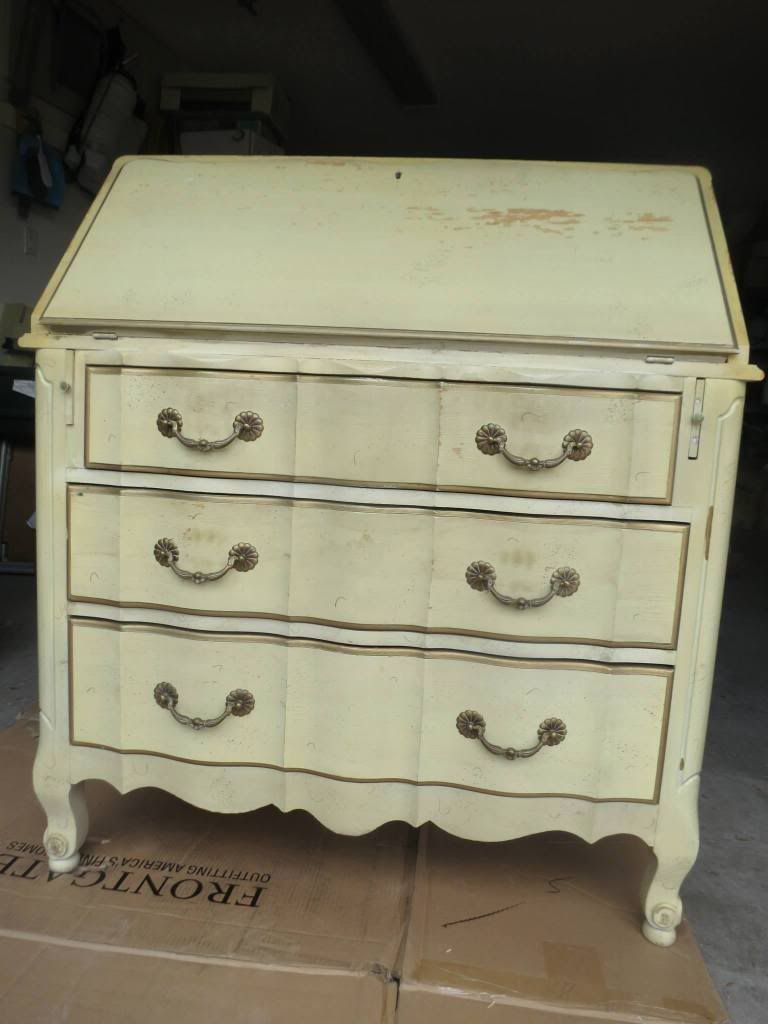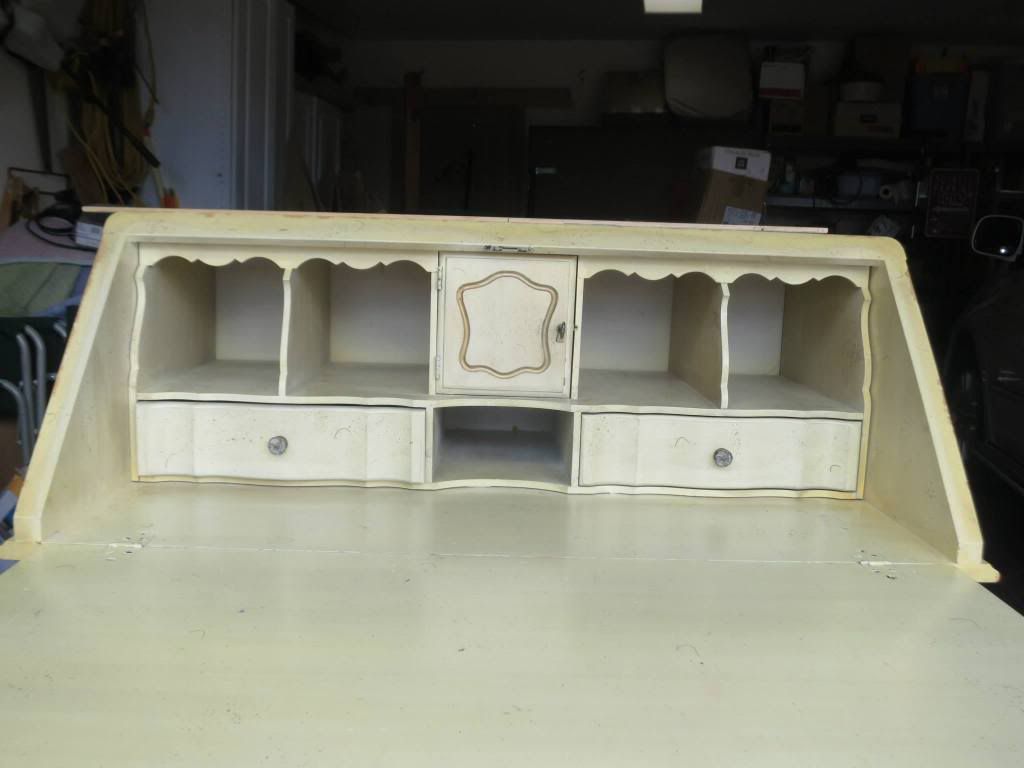 This was a PIA to paint, but worth it as DD loves it. She chose the color herself, Behr's Botanical Tint , which is a light turquoise bluish-green, to work with her PB curtains and bed linens. She also spray painted all the hardware
herself.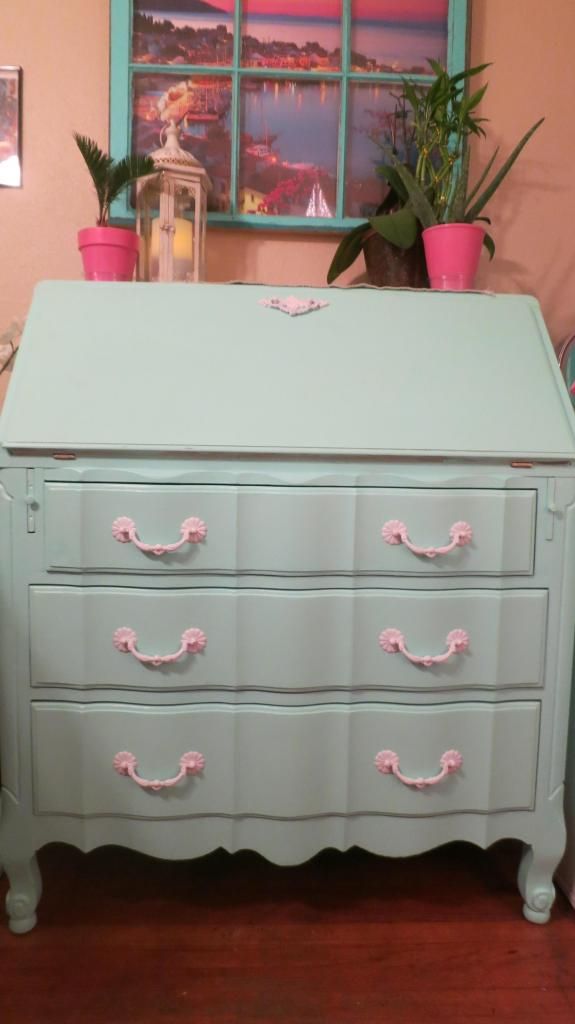 I paid $20 for this wicker headboard at a thrift store. DD decided to paint it black, which we think works well with her comforter colors


Here's the After of it. As you can see, this daughter of mine loves her pillows (LOL)! Curtains and bed linens are from PB Teen.


Her desk chair was a gift from us. We bought it at the IKEA store while vacationing in Denver earlier this month. It's very comfortable! BTW, the nightstand behind it shows the true color (at least on my laptop screen) of it and of the matching dresser, shown here also.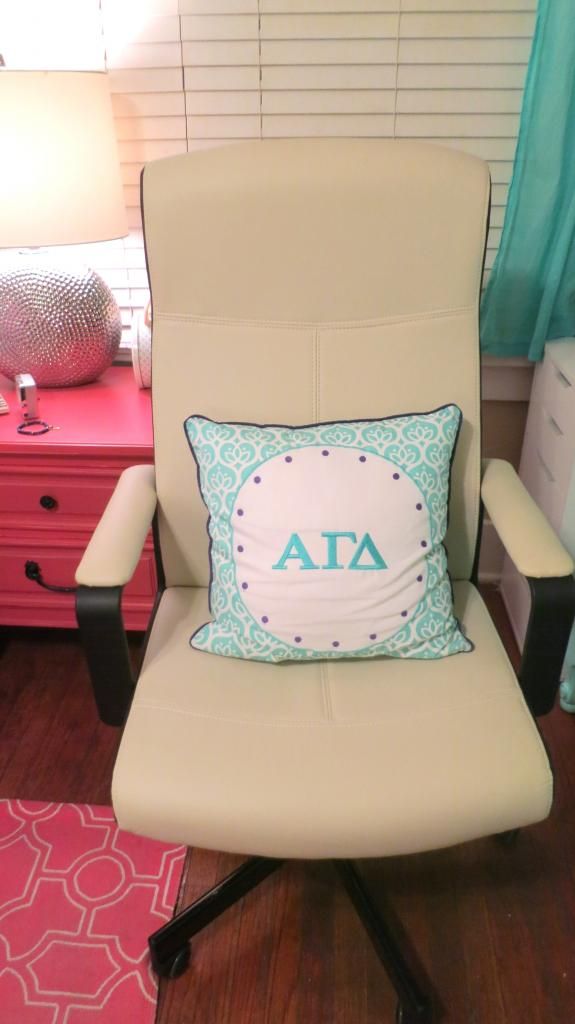 While we were at IKEA, we also bought her this drawer stack, which you can see in her chair photo. It sits between her desk and the window.


Her deep peach-colored dresser and nightstand were found at a consignment shop near her university late last Spring. She loves how they pick up that same color in her comforter.
This pic of the dresser was taken at the shop when she bought it. It's actually the same color as the nightstand in another pic here.

She saw a mirror in one of my decorating magazines that she loved. I found this very similar one at a consignment shop for $20. It's 32" tall.


She repainted it black:

I found these storage
cubes at Walmart to sit at the foot of her bed and store extra linens or whatever. They were $20 each and are a patent leather, embossed alligator look.


DD says that the look she was going for is "kind of a world traveler with a Forties slant". She found these copies of old travel posters and framed them to hang in her room (her configuration):

They hang above these 2 repainted campaign tables that she hopes will someday hold a tv
.: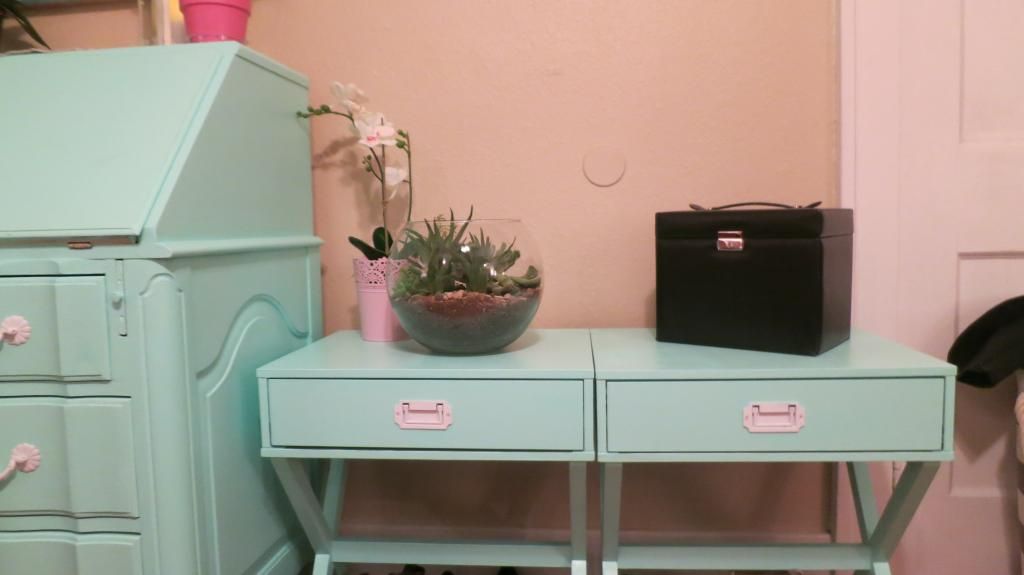 And last, she wanted an "exotic view" above her desk. I had an very old wood-framed window that I'd planned to do something with someday. We ordered a great Greek harbor print online, took it to a framer and had it cut to fit and mounted behind the glass. The frame color is original. DH had to hang that as it's quite heavy, but she loves it and got her "room with a view". Actually though, she has wonderful views of her shady tree-lined street (and a good looking frat house
) from her two bedroom windows, but why quibble over details (LOL)?
This post was edited by lynninnewmexico on Sun, Aug 3, 14 at 13:16