My Plan From HD - Thoughts?
I took my plan to a nicer designer and am meeting for his version on Wednesday. But this weekend I went to HD 'just to see'. The guy was actually very knowledgeable and had just the right amount of giving me what I wanted and counseling me to other options when he thought it was needed. Someone had booked me for a countertop appt so when I said kitchen, he was happy to oblige - though b/c we were both time crunched we left some specifics out (exact door placements that don't impact design, cabs instead of drawers, etc). We were going for size and general idea.
Also, I should give credit where it's due - this is live wire oak's take on one of my designs!! Thank you!
So here is his plan, and then my edits after coming home and thinking about things.
Some thoughts:
I originally had 30" cabs on either side of range for symmetry - he argued for more main prep space next to sink and that since it's behind an island, lower symmetry wasn't as important as prep space.
Since that lost me a 30" plus drawer for pots, he put it in the island (which made it 6" bigger than I originally planned)
He insisted I didn't want the garbage next to my corner sink as it would be hard for me to access it for scrape, rinse, DW cleanup. He did a physical demonstration and I could see his point...so he put a regular 18 cab between sink and trash.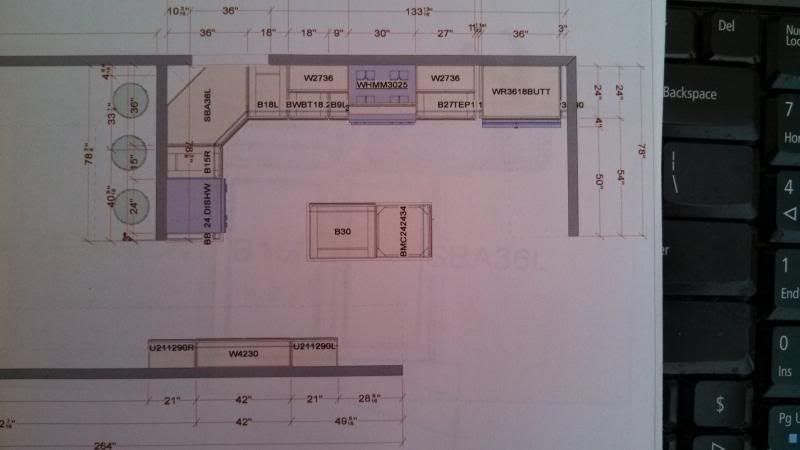 You'll see a nice big 12" deep hutch I'll use as a pantry and communications center on the bottom wall.
My thoughts:
I mocked up the island and it sticks too far into the doorway from the hall. 12" just clears the walkway - adding 6" to the island makes you curve your path to get around it, so I put it back at 48" total.
I had to get my 30" drawer back so I put it between fridge/range. On the other side of range I took 9" tray storage out and will put dividers above fridge. Gives me trash and a 24" drawer on L side of range. I really think I'd rather have the full drawer stack next to the range and the trash next to the sink? Since I have 15" between sink and DW on other side, wouldn't that give me plenty of space to scooch over a bit while the trash was open?
Lastly, the hutch was the last thing we did, so we didn't check clearances. It's too tight with the island. So I kept shrinking it's size (from 4 21" cabs down to 4 15" cabs) and I still had to move it down and off center on the bottom wall to make it fit. If I'm going to move it off center anyway, should I keep the cab sizes bigger? And what do I put on the empty wall? Artwork or something, I guess?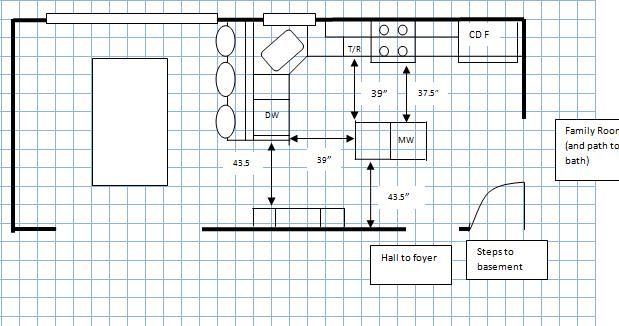 Sorry, that's a lot of questions! Thanks in advance for any thoughts you have!